In its simplest definition, an "advocate" is someone who gives a voice to a person, group or cause. As supporters of The Howard Phillips Center for Children & Families, part of Orlando Health Arnold Palmer Hospital for Children, our Advocates for Children do just that. This group was founded in 2013 as a way of providing a voice to the voiceless by supporting programs and team members serving the children and families who rely on The Howard Phillips Center.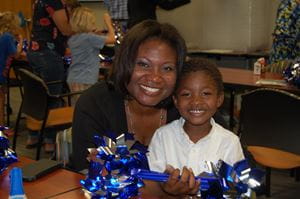 Advocates for Children giving society members recognize and value the meaningful and impactful work done at The Howard Phillips Center. These individuals engage in special events throughout the year and are unified by their passion and interest in the mission of The Howard Phillips Center.
If you would like to know more about joining Advocates for Children, contact Amy Drury, Director of Development, Orlando Health Foundation at 321.841.8285.
1 Million Reasons Tour
We invite you to attend a 1 Million Reasons tour at The Howard Phillips Center. Step behind the scenes to hear firsthand stories of identification, treatment and prevention direct from caregivers, organizational leadership, grateful families and volunteers. You can join one of our scheduled one-hour tours or host a group tour for you, friends, family or colleagues by contacting Shelby Santel at 321.841.6083 or [email protected]