The Westgate Resorts Foundation has been a tremendous partner of the Children's Advocacy Center at The Howard Phillips Center for Children & Families, a part of Orlando Health Arnold Palmer Hospital for Children, through grant funding, in-kind donations and emergency assistance for families in crisis. Since 2016, Westgate Resorts Foundation has given $90,000 in grant funding in support of the Children's Advocacy Center.
When the COVID-19 pandemic hit in 2020, the Westgate Resorts Foundation remained a pivotal contributor of The Center's work, providing a major gift to continue to assist families impacted by child abuse. With their continuous support, we are meeting the needs of those most vulnerable in our community, so they don't have to face overwhelming challenges alone.
Throughout the past year, our community has felt the weight of the coronavirus pandemic. For families already living in or on the brink of crisis, it becomes a dangerous situation where children are at even greater risk of experiencing abuse, neglect and other tragic circumstances. More than ever, the work of the Children's Advocacy Center is vital to Central Florida's most vulnerable families and the community at-large.
Supporters like the Westgate Resorts Foundation enable us to continue addressing child abuse through comprehensive services that offer specialized medical assessment, advocacy and resources and evidence-based mental health counseling. Past grants awarded by the Westgate Resorts Foundation have supported...
Child abuse prevention awareness training for nearly 8,000 community members.
Emergency and transportation assistance for almost 500 families.
Snacks for up to 300 children receiving therapy per year.
The assistance for families prevents additional crises, such as homelessness, and keeps families engaged in services they desperately need to heal.
The generosity of the Westgate Resorts Foundation is exemplified at every level of the organization as they are always ready to support our community and help provide families with what they need to heal and live healthy and productive lives.
About the Children's Advocacy Center
The Children's Advocacy Center (CAC) is the name for the group of programs, including Child Protection Team, Child Advocates and The Healing Tree that provide a compassionate and coordinated community response to abused children in Central Florida to reduce trauma and help them heal.
To make a donation to support the CAC, visit Give.OrlandoHealth.com/CAC.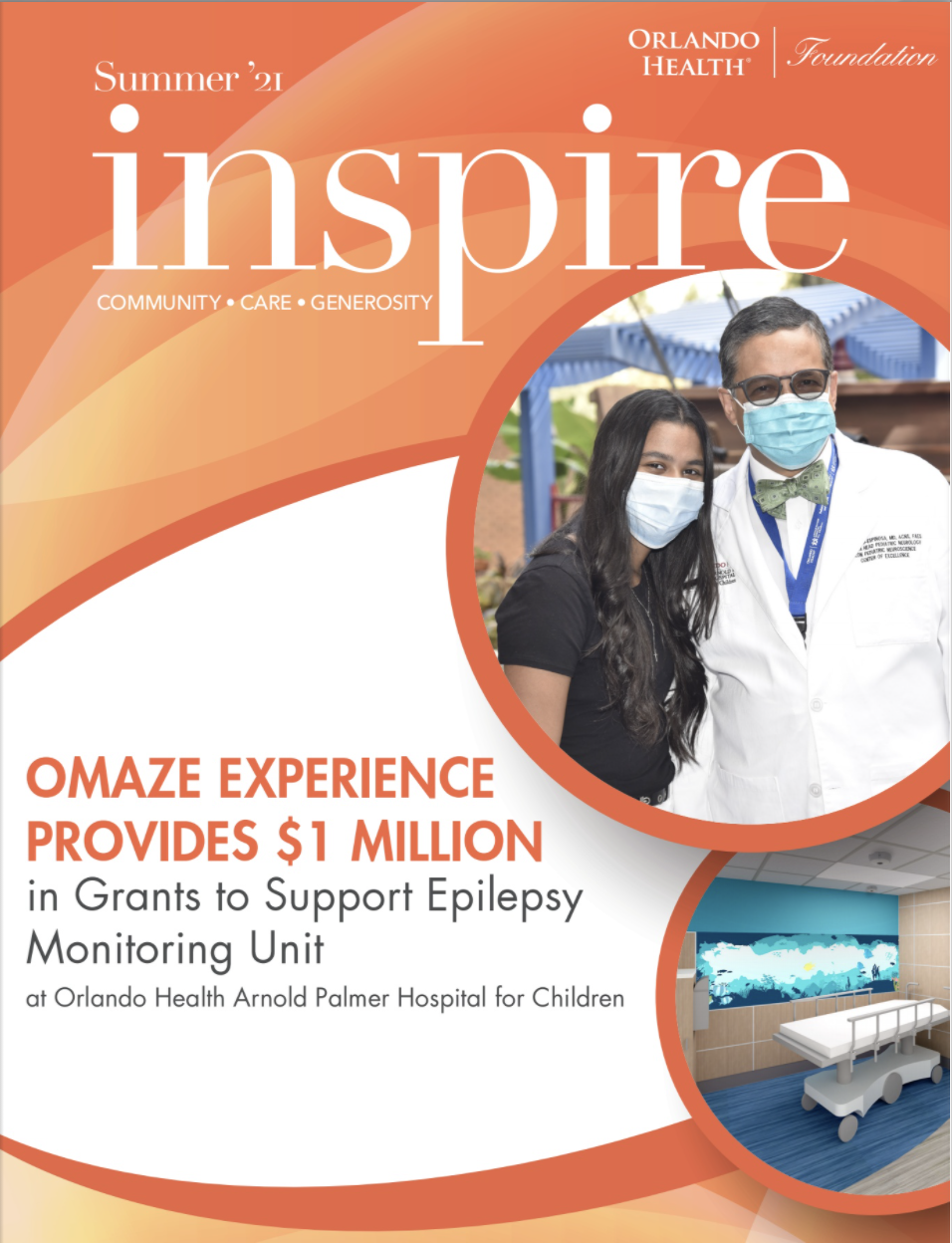 2021 Summer Inspire
Inspire celebrates the remarkable people who help to make Orlando Health an outstanding place of healing. In this edition, you will find stories celebrating patients who have triumphed over their diagnosis, donors who continued to support our mission through the world-wide pandemic and community partners who remain crucial to the advancement of care offered to our community.
View Online Magazine