Vision & Values- The Impact of Covelli Family Limited Partnership on Orlando Health
Elvis Presley is at the top of the music charts, the average cost of a new car is $2,200.00 and Albert Covelli is opening his first franchise – the first-ever McDonald's in Warren, Ohio. The year is 1959. Fast forward 62 years, and that one franchise has morphed into a family-run business stretching across three generations and more than three key restaurant brands, one of the largest being Panera Bread®. While the food offerings are all different, the basic operating premise is the same. Covelli Family Limited Partnership (CFLP) vows to treat all customers and employees with total dignity and respect, and there is another common denominator – to give back.
Albert's children, Sam Covelli and Annette (Covelli) Ford, have both taken the philanthropic lessons instilled by their parents and imparted them on their own children. Annette and her husband, Gavin, have worked closely in the day-to-day operations of CFLP as they raised their family in Central Florida. For over 15 years, Annette's son, Kevin Ricci, has been significantly involved in the ownership and operations of the cafés, focusing on the growth of the business in the Tampa and Orlando markets.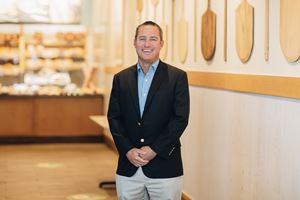 Kevin discusses his philosophy on giving back, as well as the impact of CFLP and Panera Bread in our community:
WHAT DOES YOUR DAY-TO-DAY WORK LIFE LOOK LIKE?
I lead our 62 bakery-cafes in Central Florida and Tampa with a hands-on approach which enables me to know the business inside and out. I spend more of my time in our cafes than I do in my office. I feel I can be a more valuable asset to our organization by enveloping myself in the Panera culture and talking one-on-one with our customers. I view our employees and customers as part of my extended family, so I make my decisions based on what is best for everyone.
WHAT IS YOUR PHILOSOPHY ON GIVING BACK?
I was raised with a strong moral responsibility to give back to the community and consider this to be one of the most important missions in my personal and professional life. This is part of the reason why I've found such a home with the Panera Bread brand, as giving back has always been a part of their organization as well, but we have expanded upon it and made philanthropy the central component of our family business.
WHY DO YOU CHOOSE TO SUPPORT ORLANDO HEALTH?
I was introduced to all that Orlando Health does for the Central Florida community through my mom's (Annette's) service on the Orlando Health Foundation Board and the Central Florida events and programs we have participated in for many years. The incredible physicians, nurses and staff throughout the hospital system are inspiring in their passion and dedication for giving the utmost care to the next generation of Floridians. Knowing that CFLP's contributions are directly impacting patient care and can save lives is an incredible honor.
WHAT IS THE FUTURE OF COVELLI FAMILY LIMITED PARTNERSHIP AND YOUR VISION FOR THE COMPANY?
I am envisioning a bright future for CFLP. This past year has proved that our company is strong, resilient and capable of overcoming any obstacles thrown our way. While the road was suddenly filled with new turns, it allowed our business model to evolve and become even more versatile for our customer's needs. The road ahead will be filled with growth, technology enhancements and, of course, delicious food options you can enjoy anytime and anywhere. In addition to Panera, you will also see our other concept, Fresh Kitchen, expand throughout the Orlando area.
We want our guests to know we will continue to uphold our commitment to philanthropy and helping our community. We are proud to give back and help worthy organizations like Orlando Health to support their mission to ensure that all people are treated with respect, dignity, kindness and compassion. "One Panera" is a phrase often used in our Panera family of employees. I believe it is more fitting now than ever. I am looking forward to this new chapter in history that has yet to be written. We are "One Panera" in this journey together.
The philanthropic impact and legacy of Covelli Family Limited Partnership can be seen far and wide across the Central Florida community. Orlando Health is grateful to be a part of this legacy.
For more information on Corporate Giving, please contact Drew Strochak at (321) 841-5938 or [email protected].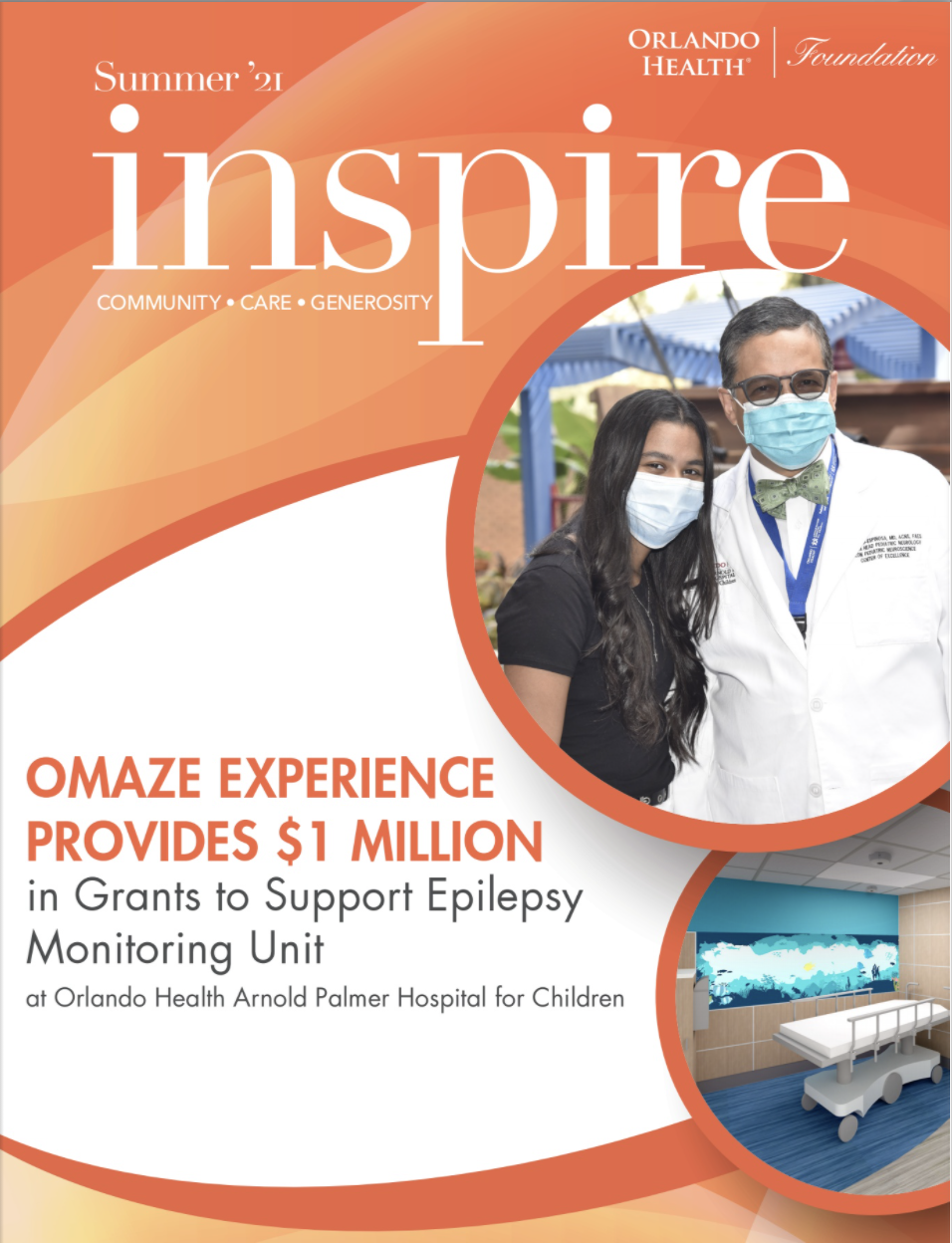 2021 Summer Inspire
Inspire celebrates the remarkable people who help to make Orlando Health an outstanding place of healing. In this edition, you will find stories celebrating patients who have triumphed over their diagnosis, donors who continued to support our mission through the world-wide pandemic and community partners who remain crucial to the advancement of care offered to our community.
View Online Magazine