Tommy Bahama Restaurant and Bar Raises More Than $300,000 for Hospitality Homes
Since their arrival in Orlando nine years ago, the wonderful team at Tommy Bahama Restaurant & Bar have provided significant support for the families served by Orlando Health's two hospitality facilities — Hubbard House on the downtown campus and the Cynthia C. and William E. Perry Pavilion at Dr. P. Phillips Hospital. Through the Tommy Bahama Caribbean Classic Dinner and Charity Golf Tournament, Tommy Bahama Restaurant & Bar and their many partners, sponsors and fans have generated more than $300,000 to support our mission of caring. The most recent event took place November 1-2, 2015 and raised $53,000.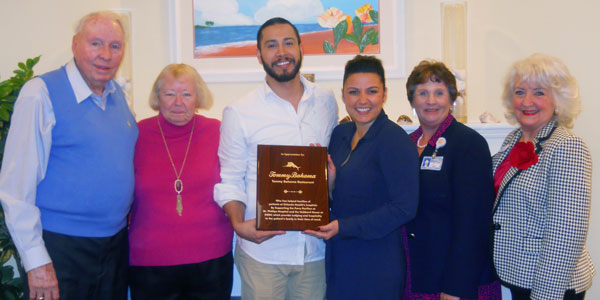 Celebrating another great golf tournament supporting Hubbard House and the Cynthia C. and William E. Perry Pavilion are Bill and Cindy Perry; Arturo Colonel, General Manager, Pointe Orlando Tommy Bahama Restaurant & Bar; Ana Nelson, Tommy Bahama Event Coordinator; Cheryl Cyr, Manager, Perry Pavilion; and Peggy Smith, General Manager, Hubbard House.
Designed and built as a "home-away-from-home" for families of patients from outside the Orlando area, the Hubbard House can help restore a sense of calm during troubled times of illness or injury. The heart-warming stories that have emerged from the evolution of the Hubbard House are as big and comforting as the house itself. Since opening in January 1994, the Hubbard House has served thousands of families facing the extra burden of finding convenient and affordable temporary lodging in times of crisis.
A few years later, through the generosity of Cindy and Bill Perry, many physicians and friends, the Cynthia C. and William E. Perry Pavilion was completed at Dr. P. Phillips Hospital, accommodating the needs of our traveling families who find themselves suddenly needing care at this hospital. Like the Hubbard House, the Perry Pavilion has cared for thousands of family members. We are very proud of the fact that both facilities have experienced 100 percent patient satisfaction since opening.
We appreciate the many years of support from Tommy Bahama Restaurant & Bar for the Orlando Health hospitality homes and the families we serve each day.