Having been residents of Central Florida for only a few years, Carmen and Scott Moscrip have already made their mark on the community since moving from Idaho. In their neighborhood, the energetic couple are known for their festive holiday decor from Halloween to Christmas. With large inflatables including a dragon, a turkey and a large snow globe that fill their yard, they bring joy to passersby and leave thoughts of, "I can't wait to see what they do next year."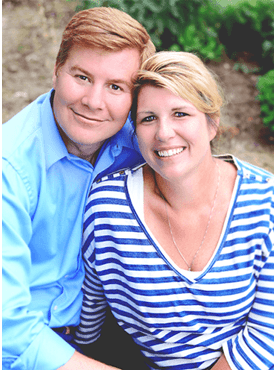 Not only are they fun neighbors, but Carmen and Scott both have generous and compassionate hearts to support those in need. To the Orlando Health community, the Moscrips share their generosity with The Howard Phillips Center for Children and Families, part of Orlando Health Arnold Palmer Hospital for Children, as donors and active supporters of The Center's mission.
Carmen and Scott want to have active involvement with the organizations they support. "The wisest advice we've ever been given came from an Archbishop who said, 'Don't come and tell me I can help you; first become my friend.' We've taken that to heart and that has really changed how we do things. By spending more time with the people in these organizations, we find the needs present themselves of where we can best help to make a difference," says Carmen.
The couple's connection to The Howard Phillips Center began in 2021 when they donated toys for local families. After learning more about its mission, they were inspired to support The Center financially and have had significant impact on its six programs. As dedicated friends to The Center, Carmen and Scott have had an active involvement in organizing drives to gather items such as clothing, food and school supplies. Their efforts not only support those served at The Center but provide resources for the staff. Carmen and Scott have gone above and beyond being supportive Major Gift donors, giving so much of their time and treasure, which has created many life-changing moments.
"The thing about The Howard Phillips Center that I love is that you all are active in what you say you are going to do for these families, and it's in a fashion that's not what you want, but what the kids need. The programs really go after the problems, helping to stop them and help families move on," says Carmen.
"We really like that The Center stays focused on its mission. Focused on what kids at each age range need, and whatever they need, you are there for them," says Scott.
The Moscrips follow the motto "lift where you stand" which you can see through the time and energy they spend becoming truly connected to our mission. Apart from their active involvement in their community, they each have dedicated time to their unique hobbies. Scott has been studying his family's genealogy for years, while Carmen most recently began to take up quilting after completing her impressive last project of putting together a puzzle of over 40,000 pieces (which took about two years to complete).
The Howard Phillips Center is proud and thankful to have advocates like Carmen and Scott. Their support helps The Center to further its mission, reach more families and create lasting impact within our community.