The Howard Phillips Center Annual Down Syndrome Clinic
For the 22nd year in a row, The Howard Phillips Center for Children & Families, a part of Arnold Palmer Hospital for Children, has offered a free Down Syndrome Clinic to the community in collaboration with the Down Syndrome Association of Central Florida.
Families from all over Central Florida, as far as Brevard County, traveled for the opportunity to meet one on one with a unique group of medical professionals. More than 61 families attended - totaling over 250 participants!
Over 80 physicians, providers and volunteers donated their time.
Physicians specialties in attendance ranged from Cardiology, Ear, Nose and Throat,Endocrinology, Gastroenterology, Orthopedics,Ophthalmology, Dentistry, Pulmonology andGenetics.
Services provided: Vision therapy, audiology, behavior specialists, massage therapy, nutrition,oral motor therapy, occupational therapy,physical therapy, speech therapy, sign language and music therapy.
This was a community event, with multiple other agencies/resources taking part - UCF FAAST, UCP, Down Syndrome Foundation, Family Resource Specialists, EIP Specialists, Agency for People withDisabilities.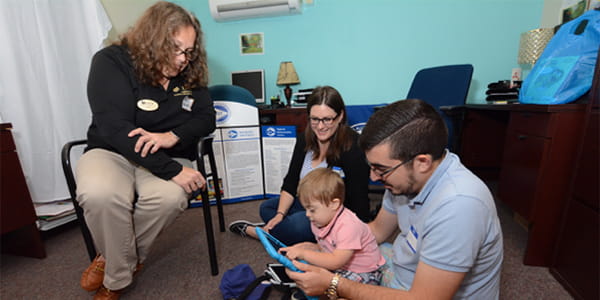 Our families are extremely grateful for the opportunity to see so many specialists – all coming together to volunteer their time and give back through this day long clinic. It is a unique opportunity that allows families to have a years' worth of appointments in one day and at no cost! Not only do families receive an impressive amount of information from our community providers, they also have the opportunity to network with other parents, share their personal experiences and support each other. The business community plays huge a part in our success through Corporate Partnerships like Hard Rock Café and Panda Express - providing breakfast and lunch for the families and our volunteers.