As part of Orlando Health's commitment to improve the quality and speed of patient care for our rapidly growing community, the Orlando Health Orlando Regional Medical Center (ORMC) Emergency Department recently celebrated a newly installed Computerized Tomography (CT) machine.
The initiative to expand and renovate our Emergency Department as well as the Level One Trauma Center was identified following the June 12, 2016, Pulse tragedy. Thanks to generous donations from the community, Orlando Health Foundation has been able to provide not only our patients, but also our team members, with a top-of-the-line piece of technology to improve imaging and efficiency within the Emergency Department, ultimately leading to faster imaging, diagnoses and improved care.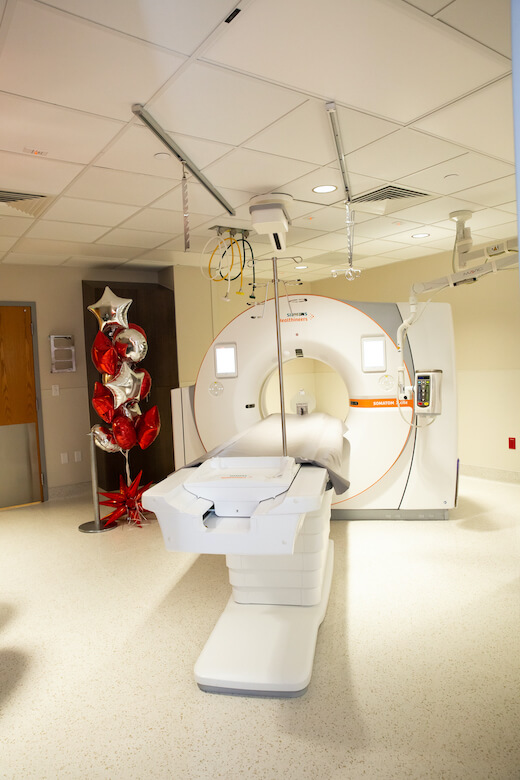 The new, high-tech CT scanner from Siemens is only the second of its kind at Orlando Health ORMC. It features a patient-friendly design with a large 82cm bore that not only gives the patient extra room, but also allows technologists the ability to perform additional diagnostic procedures while the patient is being scanned. The large size, in addition to the adjustable mood lights on the machine, help patients feel more relaxed and comfortable. The CT scanner also features a color-coded guide that helps patients comply with breathing commands and is especially useful for hearing-impaired patients. Radiological technologists are also able to operate the scanner using the detachable gantry-mounted tablet and have the option to control the entire scan via the tablet while maintaining focus on the patient. No matter the patient or complexity of the procedure, this new CT scanner enables users to reduce unwarranted variations – and generate consistent, comprehensive results.
The Orlando Health Foundation hosted a ribbon cutting ceremony with Emergency Department and Trauma Center leaders and team members to mark the installation of the new scanner. After months of construction, team members were invited to come see the new machine and celebrate this significant accomplishment.
"This new scanner will help us reduce radiation to our patients and help image quicker. Our Trauma patients will get imaging that is probably twice as fast as what we currently do now, and that will really speed up results back to our physicians to take care of those patients", says Jason Burtner, BS, RT, Director, Imaging Services at Orlando Health ORMC.
---
Thank you to our donors who helped make this advancement for our Emergency Department and Trauma Center possible.
As we continue to expand our capacity to care at Orlando Health ORMC, please consider supporting our Level One Trauma Center and Emergency Department capital campaign. For more information about making a donation, please visit Give.OrlandoHealth.com/Trauma.