Thanks to the generosity of donors in our community, Central Florida's only Level One Trauma Center at Orlando Health Orlando Regional Medical Center (ORMC) will soon be expanding. Because of you, the hospital can fulfill their mission to help patients in critical need of life-saving care and clinical teams will have the full resources they need to deliver the best care possible.
Orlando Health Foundation is committed to raising $25 million for this vital expansion of trauma care and emergency department services.
Expansion Updates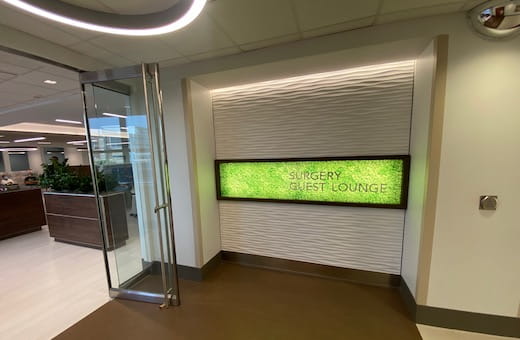 Surgical Suites
Upgrades to various floors of the hospital, in preparation for the overall expansion, include renovations of patient wings to optimize pre-operative areas. This will allow for the best patient flow in times of critical need to maximize efficiency for our trauma team when caring for patients. These enhancements create space for advancements in future construction phases that will increase the effectiveness of the trauma and special care units at Orlando Health ORMC.
Patient Family Waiting Rooms
The first patient family waiting room has been renovated to be a vibrant and comfortable area for family members. The space consists of modernized features, privacy and technology that allows for loved ones to be updated quickly by physicians.
Imaging Technology
After the first upgraded computerized tomography (CT) machine was installed, the enhancement in technology has increased capacity by 50 percent. The ability to treat patients and decrease wait times in the trauma bay and emergency department is crucial. With another much-needed CT machine currently on the way, these upgrades enable our clinical teams to deliver excellent care through quality imaging equipment.
Leadership Updates
Kelly Nierstedt, RN, BSN, MSN, has moved to Orlando Health ORMC as the new hospital president. With 25 years of clinical, operational and strategic experience, Kelly joined Orlando Health in 2018 as the president of Orlando Health Winnie Palmer Hospital for Women and Babies and senior vice president, Orlando Health.
Ohme Entin is now the chief operating officer of Orlando Health ORMC, responsible for driving operational performance and executing strategic initiatives. Ohme formerly served as president of Orlando Health St. Cloud Hospital, where she was responsible for leading the strategic and operational direction for the 84-bed, acute-care hospital. Prior to that role, she was chief operating officer of Orlando Health Dr. P. Phillips Hospital.
For more information or interest in supporting the expansion of the Level One Trauma Center at Orlando Health ORMC, please contact Jordan Shackelford at (321) 843-2477 or [email protected]