Through the support of our dedicated donors, the teams at Orlando Regional Medical Center are able to better serve trauma and stroke patients.
HELPING TRAUMA & STROKE PATIENTS
The new ultra-fast CT scanner produces high resolution images within seconds, which makes a difference for the more than 46,000 patients who have benefitted from the CT scanner since it was purchased two years ago, entirely with the support of generous supporters like you.
One patient, Joe, was in a serious car accident and suffered life-threatening injuries. Thanks to the ultra-fast, longer CT scanner at Orlando Regional Medical Center (ORMC), our team was able to scan him literally from head to toe in a matter of seconds to quickly assess his injuries and begin life-saving treatment.
The ultra-fast CT scanner not only improves the imaging process for trauma patients, it also helps the stroke team at ORMC save lives. With detailed diagnostic images completed quickly, the team knows how to start care immediately.
Because of your generosity, Amy, a 76-year-old grandmother of two, required only a two-day stay at ORMC after experiencing left-sided weakness. After arriving at ORMC, Amy received a CT scan within 10 minutes, allowing doctors to see that she was having a stroke and begin immediate treatment.
Thanks to this CT scanner purchased with your gifts, our stroke team was able to identify and treat Amy's stroke quickly, avoiding serious side effects that result from prolonged lack of oxygen to the brain.
You are the reason
Amy walked out of ORMC two days later -without assistance- so she could get back to life with her family and grandchildren.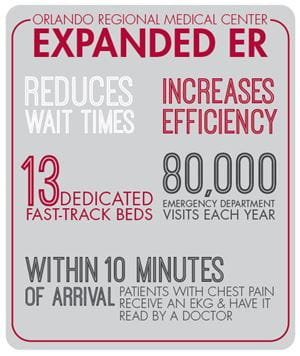 INCREASING CAPACITY & EFFICIENCY
As one of the most visited emergency departments (ER) in Central Florida, ORMC's emergency department team sees more than 80,000 patients each year. With your support, we built a fast-track ER as part of the recent ORMC construction to shorten wait times and treat more patients more efficiently. This space, enhanced processes, dedicated physicians and staff resources allow us to streamline treatment and have improved wait and treatment times for many patients.