Renovating the Developmental Center for Infants & Children
With a history of giving to hospitals to help children with mobility issues and the underprivileged, Variety – The Children's Charity of Florida, is renovating the Developmental Center to make the space more sensory friendly to kids with developmental delays and disabilities.
The Developmental Center for Infants & Children is a special part of The Howard Phillips Center for Children & Families, part of Orlando Health Arnold Palmer Hospital for Children. The Developmental Center, also known as Early Steps, helps kids from birth to age 3 manage physical, emotional, intellectual, social and sensory challenges and treats 7,704 kids a year, 40 percent of whom are on the autism spectrum.
To aid in the renovation, Variety awarded the Developmental Center funds to redesign and refurbish the space to better meet the needs of families and make the space more sensory friendly. This includes making the space larger and more therapeutic, comfortable and durable, updating the flooring, lighting and furniture, and using more soothing colors. In recent years, Variety has given The Howard Phillips Center more than $180,000.
Who is Variety?
Variety – The Children's Charity is an international organization and the charity of the entertainment industry. For nearly 30 years, the Florida chapter has provided more than $1 million of support to Orlando Health Arnold Palmer and Orlando Health Winnie Palmer Hospital for Women & Babies. As many children born in the Orlando Health Winnie Palmer NICU have developmental delays, support of the Developmental Center seemed like a natural fit.
Major supporters of Variety Florida include Dunhill Companies, a commercial real estate company co-founded by Marshall Cohn and Robert Winters. Both Cohn and Winters are Variety Board Members and Winters has served as the past president. Like their fellow Variety Board Members, both Cohen and Winters believe in investing in the well-being of children and families in the local community.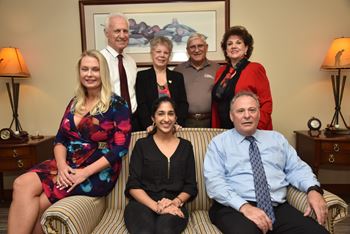 Several of Variety Florida's board members