At the age of 44, Hal Mette underwent a specialized cardiac surgery known as the Ross procedure. A procedure that, today, is considered too risky to be performed on adults and is reserved only for children – who tend to have the particularly clear arteries needed to help make the surgery a success.
A previously diagnosed aortic birth defect and heart murmur was prematurely wearing down Hal's arteries. This diagnosis gave Hal a life expectancy of only two more years, at most. Not wanting to accept this reality without exhausting all options, Hal researched treatment options that could extend his life. Once Hal discovered the Ross procedure, he and his wife, Jennifer, decided to take the chance on surgery, despite the small percentage of positive outcomes. At the time of his surgery, 29 years ago, only one in every five adults survived. But for Hal, it was well worth the risk.
Because of that decision and the success of the surgery, Hal's heart has been strong, allowing him to spend time with family and enjoy the hobbies he loves. However, over time, Hal's heart murmur became louder, his breathing became heavier and he needed another surgery.
FINDING HOPE IN PEDIATRICS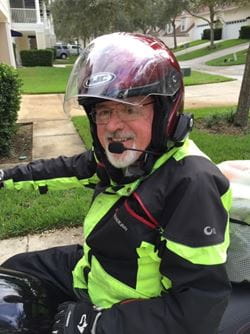 Because Hal's original cardiac procedure is now only performed on pediatric patients, Hal needed to find a surgeon with the right experience. Hal was introduced to David G. Nykanen, MD, director of cardiology at The Heart Center at Orlando Health Arnold Palmer Hospital for Children. Highly skilled, Dr. Nykanen was the perfect physician to perform this challenging procedure.
"Dr. Nykanen amazed me right from the beginning. He treated me like a human being and really cared about me," Hal recalls.
The surgery, performed at Orlando Health Orlando Regional Medical Center, was a success and a true collaborative effort between our adult and pediatric teams. On the following day, Hal could already breathe significantly better. His wife, Jennifer, although extremely nervous during the procedure, felt confident in Hal's team. "You could really feel how much Dr. Nykanen and his entire team cared about us. They were there for us every step of the way and helped to put us at ease," says Jennifer.
Inspired by the authentic care and compassion of Dr. Nykanen and his team, the Mette's decided to honor their work through a $5,000 Honor a Caregiver donation. In addition, they joined our Champions Circle giving society, which helps support the ongoing needs of the hospital. Because of his care team, Hal is now 74 and can keep doing the things he loves most, such as riding his motorcycle and participating in "SaddleSore" rides (completing at least 1,000 continuous miles on a motorcycle).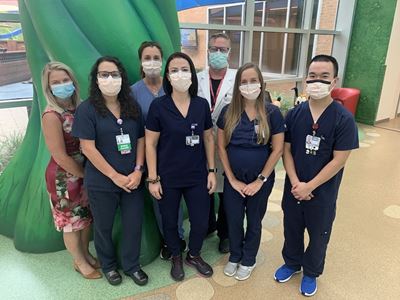 Hal's medical team was recognized as part of the couple's donation, seeing the impact their extraordinary care has on not only their patients' physical health, but their mental and emotional well-being as well. Karen Iacono, MSN, ARNP, C-PNP, values the training she received as part of the Roadmap Project, aiding clinicians to support the resilience and emotional health of pediatric patients with chronic conditions, their families, and the medical teams who care for them. "I knew it was important to let Hal tell me about himself and who he was as a person. Through learning some of his anxiety around the procedure, I knew I wanted to be a consistent part of being compassionate towards his needs and partner with he and Jennifer to enrich his resilience," says Karen.