Generous friends of the Foundation and long-time supporters of Orlando Health, Roy and Dee Haley are again making a significant impact on our ability to care for Central Florida kids battling cancer.
In October, the Haleys made a $5 million gift to establish the hospital's pediatric bone marrow transplant (BMT) and cellular therapy program.
Bone marrow transplants are used to treat life-threatening cancers like leukemia, along with blood disorders and other illnesses. The gift from the Haleys will bring this specialized care to children and their families without having to leave their caregiving team at Arnold Palmer Hospital. Construction of the space to house the BMT and cellular therapy program is scheduled to begin in early 2016.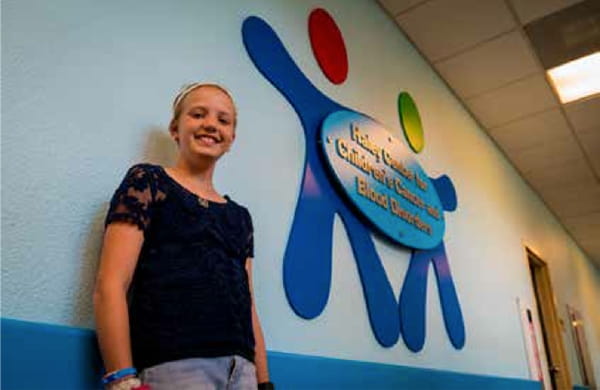 "Cancer is not like fixing a broken bone or taking out someone's tonsils or even other very significant types of surgery," Roy Haley said. "A child with cancer may be in the hospital on a full-time basis anywhere from several months to a year or more. But their treatments go on for a very long time, in some cases as long as 10 years or more."
In addition, the Haley's donation will help formalize Arnold Palmer Hospital's pediatric oncology services into a comprehensive center capable of caring for patients throughout Florida. The gift will enable capital and ongoing program support in the treatment of patients with all forms of childhood cancer and blood diseases, including leukemia, central nervous system cancers, bone tumors, Hodgkin's disease, lymphoma, sickle cell disease, hemophilia and other blood disorders. In honor of the Haley family's generosity, signage will be unveiled for the newly renamed Haley Center for Children's Cancer and Blood Disorders at Arnold Palmer Hospital.
"We're very grateful to the Haleys for having provided years of support and visionary leadership," states John Bozard, president of Orlando Health Foundation. "Their generosity has helped establish Arnold Palmer Hospital as Central Florida's premier cancer treatment center for kids, and will touch the lives of so many children who come to this hospital for the best cancer treatment in the area."
The announcement took place at Arnold Palmer Hospital in early October. The hospital's namesake, Arnold Palmer, joined Roy and Dee Haley along with pediatric cancer patients to unveil the renaming of the new Haley Center for Children's Cancer and Blood Disorders. At the unveiling of this generous gift to the pediatric cancer center, the Haleys recognized the hospital's pediatric oncology specailists with a white coat ceremony emblazoned with the new Haley Center for Children's Cancer and Blood Disorders badge.
"In some ways, a gift like this is a gift to the hospital," Roy Haley says. "But in a way, it's more a gift to the clinical staff — the doctors, the nurses, the technicians and other support staff that take care of kids. It, of course, is an investment in the kids."