Orlando Health Announces a New Four-Legged Team Member!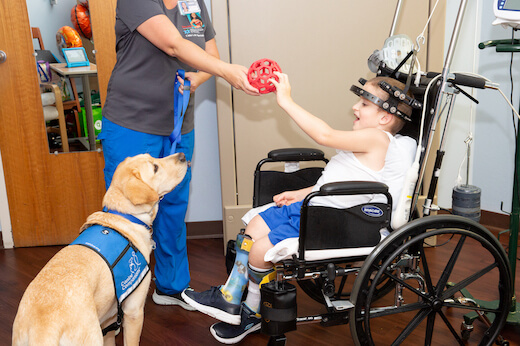 Orlando Health Arnold Palmer Hospital for Children has recently welcomed our first Facility Dog named Parks! Brought to you by the Orlando Health Foundation, in partnership with Petsmart Charities, Orlando Health Arnold Palmer received Parks at no cost from Canine Companions®.
Considered part of our Child Life team, Parks is a 2-year-old male Labrador retriever. He has been trained beyond the role of a comfort animal, completing his national certification through Canine Companions®. Parks is responsible for helping to bring healing, comfort and fun to chronic and critically ill patients, their families and team members throughout Orlando Health Arnold Palmer.
Parks spends each day at the hospital accompanied by his handler Kimberly Burbage, a Child Life Specialist at Orlando Health Arnold Palmer for 15 years. Parks and Kimberly spend weekdays traveling throughout Orlando Health Arnold Palmer, visiting with patients who need the unique emotional support and motivation that only Parks can bring. Parks, like many dogs, loves to play with his toys, go for walks and even knows a few tricks!
---
Canine Companions® has trained and provided facility dogs to professionals working in healthcare, criminal justice and educational settings since 1975. Facility dogs learn more than 40 commands during two years of extensive and specialized training that helps them interact with and calm patients and staff appropriately. They also can perform helpful tasks, such as pulling toy wagons, pushing drawers and retrieving items.
---
Learn About Parks!
Shared by Parks' Handler, Kimberly Burbage
What does it mean to be a Facility Dog versus a Pet Therapy Dog?
Our pet therapy and facility dogs both greatly impact our patients lives. Our pet therapy teams are volunteers that are registered and evaluated by a national therapy dog organization. Pet therapy dogs provide diversional visits for our patients, families and staff alongside their handlers and can help brighten everyone's day.
Facility dogs differ in that they receive two years of training prior to working in the hospital, including working around medical equipment and learning over 40 commands. Facility dogs are certified with their handlers using the same test as service dogs. The handler also undergoes intensive training to learn how to continue to train their dog and incorporate them into sessions with the patients.
How does Parks fit in with the Child Life Team at Orlando Health Arnold Palmer?
As a Child Life Specialist, my role is to work with children, adolescents and their families to help them cope during their hospital stay. When working with these families, I previously used many "tools" to meet their needs, but now I use Parks to help them reach their hospital goals.
Parks and I are consulted by the Child Life Specialists to work with patients who may need some extra support during their hospitalization. Some patients are struggling to meet their goals such as getting out of bed and walking, while others are chronic, long-term patients that would benefit from a deeper and consistent interaction with Parks and myself. We collaborate with the medical team and can co-treat with other disciplines, including our rehabilitation team to serve as a motivation during sessions. For example, if we have a patient that is refusing to walk but needs to, I can bring Parks in and offer for the patient to take him for a walk using a second leash. In many cases, this no longer feels like a required task but something fun because Parks is there.
What impact have you already seen Parks have on patients?
Parks has been a wonderful tool in working with our patients and families. He can be high energy when patients need to get up and play as well calm when they just need support and comfort. He has been a great motivator for patients with rehab goals and for those who need additional encouragement to do things like go outside. Parks has done a great job adjusting to working in the hospital and I look forward to seeing how much a difference he makes over the next several months as he continues to settle in his new home!
How would you describe Parks?
Parks can be serious and focused when working but also has a very playful and goofy side when "released" from command (aka "off duty"). He loves to chase tennis balls and play with new toys, and is also quite the snuggler! Parks is highly motivated to learn new commands and really enjoys being active with our patients and at home.