My Cause My Cleats Highlights Orlando Health
During Week 13 of the National Football League's (NFL) season, players have the opportunity to display their dedication to the causes they hold close to their hearts. The My Cause My Cleats initiative is a special program where NFL players can represent a charitable organization through specially-designed cleats.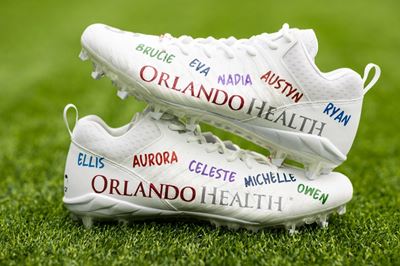 For the second year in a row, the Orlando Health Foundation was excited to partner with Jeff Driskel to highlight the incredible medical care offered to patients throughout Orlando Health. Jeff grew up locally in Central Florida, attending Hagerty High School before playing football at the University of Florida. Now, as a member of the Houston Texans, Jeff chose to highlight our healthcare organization by designing and wearing cleats imprinted with the first names of Orlando Health patients who have received life-saving care.
"It's just unbelievable work that the Foundation does. Great people for a great cause. That's why I chose Orlando Health, because of the people behind the cause and the execution as well. I'm honored to display the Orlando Health logo on my cleats." – Jeff Driskel, Houston Texans Tight End and Orlando Health Children's Foundation Board Member
As a special surprise, Jeff presented one of the those patients, Austyn, with his cleats as a way of celebrating his medical journey.
Watch the video of Jeff Driskel's surprise gift to Austyn here.
Read more articles from the 2022 Spring edition of Inspire here