Elinor and T.W. Miller, Jr. Foundation: Impacting Generation of Children and Families
Those with a passion for helping others seem to find ways to do so throughout their life, leaving an example for others to follow. This holds true for both Elinor and T.W. (Bill) Miller Jr., founders of the Elinor and T.W. Miller, Jr. Foundation. Both Elinor and Bill were passionate about service and finding ways to support those in need. Throughout their lives, they were committed to many organizations, such as the American Red Cross, American Cancer Society, Girl Scouts and the YMCA. Having met while attending Rollins College in Winter Park, Florida, their alma mater was especially close to their hearts. In addition to supporting Rollins College, both Elinor and Bill were dedicated to serving the communities in which they lived.
Elinor, born in Orlando, and Bill, born in Ashland, Ohio, created their foundation to ensure their resources would continue to support their communities for years to come. Their foundation supports the surrounding areas of Winter Park, Florida and Ashland, Ohio and is dedicated to the causes they cared for the most: education, healthcare, athleticism, spiritual health and community engagement.
Connecting with The Howard Phillips Center for Children & Families
Representatives of the Elinor and T.W. Miller, Jr. Foundation first became connected with The Howard Phillips Center for Children & Families, a part of Orlando Health Arnold Palmer Hospital for Children, in the summer of 2019. After hearing and seeing firsthand the work being done, The Howard Phillips Center was given an opportunity to submit a grant request.
What transpired was a generous two-part gift from the Elinor & T.W. Miller, Jr. Foundation. In the Fall of 2019, the foundation presented The Howard Phillips Center with a $75,000 matching grant to be used at their November fundraising luncheon. This inspired attendees to give abundantly as seen by 128 attendees making a gift, 69 first time donors and 13 new families joining the Advocates for Children Giving Society. The synergistic effect of these additional funds are helping the Center to continue protecting and healing abused children, bringing therapies to families of children with special needs, delivering medical care to underserved teens and helping families at risk for child abuse raise their children with love and support.
The second part of the gift came in the form of helping our Teen Xpress program through a $50,000 grant. This portion of the gift was extremely timely as our organization was feeling the effects of the COVID-19 crisis. The additional funding helped us continue serving teens in our area with medical and other needed services throughout the pandemic, despite early school closures at the onset.
The Howard Phillips Center could not be more grateful to the Elinor and T.W. Miller, Jr. Foundation for bringing the legacy of its founders to us and to others in our area. Elinor and Bill's lasting passion for helping others will impact generations of children and families in our community for years to come.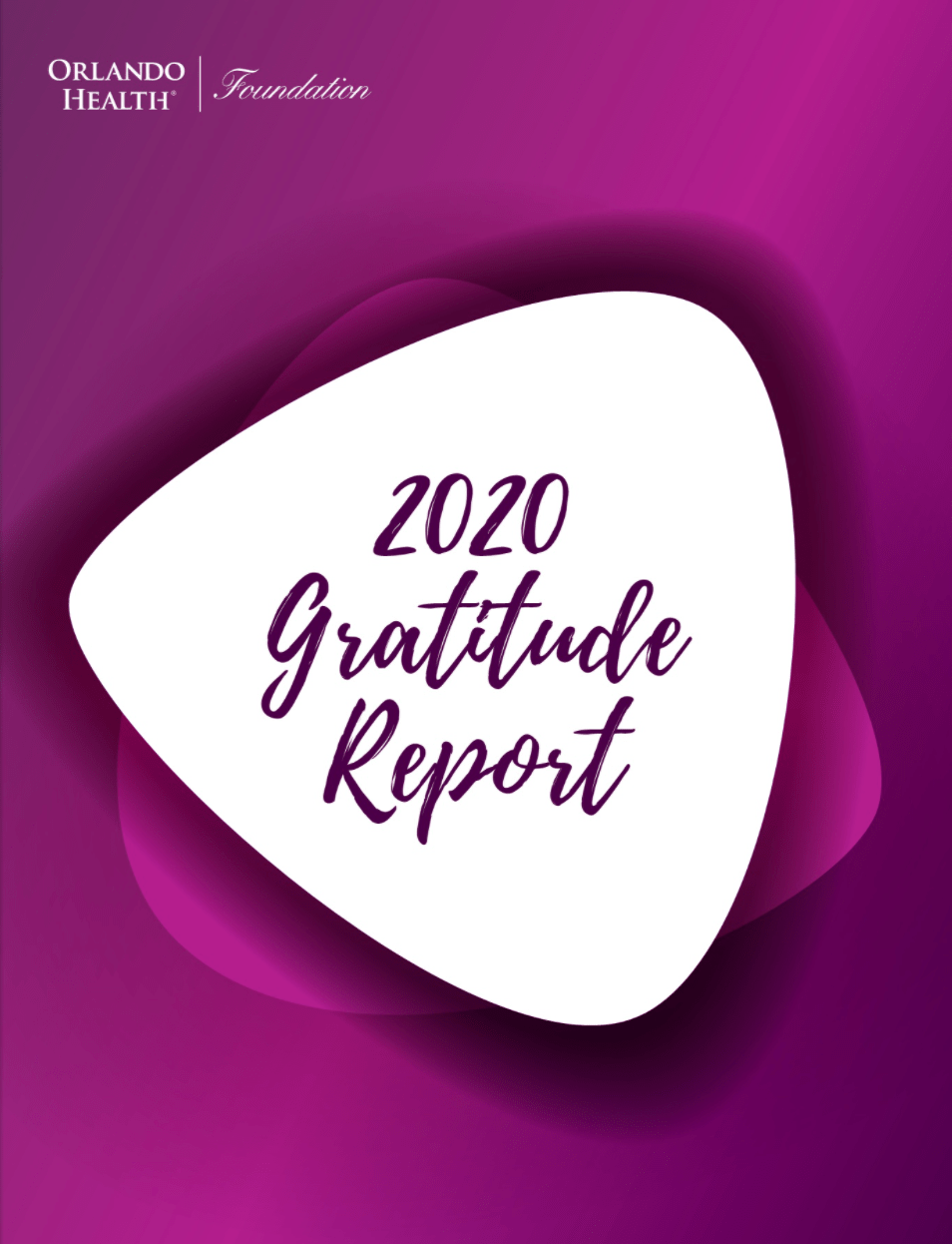 2020 Gratitude Report
This year's Gratitude Report serves to highlight and thank the many wonderful people and organizations that generously provide needed funds to Orlando Health. In it, you will read the stories of how our corporate partners, patients, donors and volunteers leave a lasting mark on every aspect of Orlando Health.
View Online Magazine