Merlin's Magic Wand Ribbon Cutting at The Howard Phillips Center for Children & Families
Merlin's Magic Wand redesigned three rooms in The Healing Tree at The Howard Phillips Center for Children & Families
(Pictured above: Tracie Hogencamp, Merlin's Magic Wand Operations Manager USA, Kathy Swanson, President of Orlando Health Arnold Palmer Hospital for Children and Orlando Health Winnie Palmer Hospital for Women & Babies, and Adrian Jones, General Manager of LEGOLAND Florida)
On June 17, The Howard Phillips Center for Children & Families celebrated the ribbon cutting of three rooms in The Healing Tree thanks to Merlin's Magic Wand, who redesigned the rooms to represent attractions at LEGOLAND® Florida Resort, SEALIFE Aquarium Orlando, Madame Tussauds Orlando and the Orlando Eye.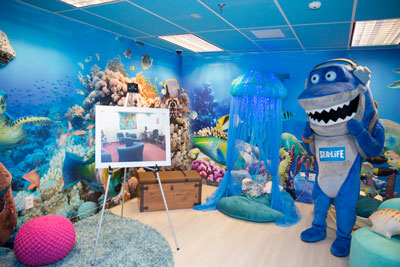 Merlin's Magic Wand, part of Merlin Entertainment, is a worldwide charity and outreach project that renovates spaces designated for children who are facing severe illness, physical disability or other circumstances. This project is the largest project Merlin's Magic Wand Foundation has created to date, according to Tracie Hogencamp, Merlin's Magic Wand Operations Manager USA.
"It's the mission of Merlin's Magic Wand to put some magic back into the lives of children and families, and that's exactly what The Howard Phillips Center and Arnold Palmer Hospital [for Children] are doing throughout Central Florida," says Adrian Jones, General Manager of LEGOLAND Florida.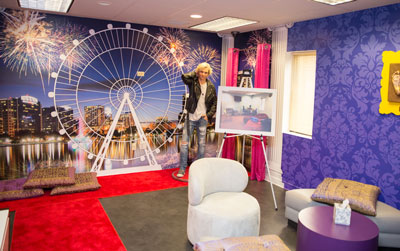 The redesigned rooms are part of The Healing Tree, where children ages three through 17 receive therapy to overcome the trauma of child abuse. The new designs provide a bright and child-friendly space where children will feel welcomed and engaged. When entering The Healing Tree, our children now enter a transformative space where they are surrounded by underwater images in our SEALIFE room, life-sized celebrity figures in our Madame Tussauds and Orlando Eye room and where they can utilize play therapy through building Lego creations in our LEGOLAND room.
"Hearing the stories of the children undergoing treatment in these highly interactive Merlin Entertainments themed rooms and psychologically safe environment brings us so much joy," Hogencamp says. "Together with The Howard Philips Center we can make a difference."
At the ribbon cutting, guests were able to view the rooms and hear stories of impact from a Healing Tree client. Overall, the guests were amazed at the transformation and excited to see how these rooms will serve our children and families.
"There is no question that something wonderfully magical has occurred at The Howard Phillips Center recently thanks to our friends at Merlin, and the children and families we serve are delighted," Marie Martinez, Operations Manager at The Howard Phillips Center for Children & Families, shared.
We invite you to come see our newly redesigned rooms by coming on a tour of The Howard Phillips Center.
Hear firsthand stories of the dignity and healing provided for children and families who face overwhelming challenges in our community.
Join a Tour