Jim & Tara McCahill, along with their companies St. James Insurance Group and St. Johns Insurance Company recently completed a $1 Million gift in support of pediatric cancer care.
The gift will support the to the specialized programs within Haley Center for Children's Cancer & Blood Disorders at Orlando Health Arnold Palmer Hospital for Children. Last month, Arnold Palmer Hospital for Children celebrated its 28th birthday, having opened on Arnold Palmer's 60th birthday in September of 1989. It is through partnership with individuals like the McCahills that the care at Arnold Palmer Hospital has been able to advance to meet the needs of our growing community.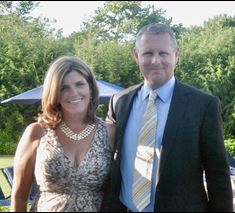 "Mr. Palmer was the epitome of success in life, not because of his athletic achievement which was legend, but because of his modesty, his generosity and his leadership," said Jim McCahill, "Arnold used his incredible success on the golf course and beyond to lead the hospitals bearing his name, achieving uncompromising quality of care for women and children. The meticulous attention to detail, the drive to improve and the desire to perform is ingrained in every dedicated member of the Arnold & Winnie Palmer Hospitals. Mr. Palmer inspired us, along with our good friends and partners, Bob and Jennifer Lucas, Ed and Andrea Falzarano, and all the members of the St James & St Johns Company family to try to follow his example in helping our Orlando, Florida community. On behalf of us all, we thank Mr. Palmer, Amy Saunders, and all the wonderful Hospital team for their exceptional commitment to quality health care."
Annually, Arnold Palmer Hospital sees approximately 80-90 new children that have recently been diagnosed with pediatric cancer and actively manages the care of over 800 children from across the state of Florida and throughout the Southeast. The month of September is childhood cancer awareness month - highlighting the thousands of children across the country that battle this terrible disease. The gift will provide crucial, continued support to the specialized programs within the pediatric oncology division including the Pediatric Brain Tumor program.
"The McCahill family have been wonderful partners to Arnold Palmer Hospital for many years and now through a partnership with Arnie's Army Charitable Foundation their gift will allow us to continue growing into a premier cancer treatment center for children throughout Florida and the Southeast." says John Bozard, President of the Orlando Health Foundation.
We are thankful for the years of support that the McCahill family and their companies have provided to Arnold Palmer Hospital for Children.