Kohl's Cares® grants $10,000 for health and wellness of Central Florida families
ORLANDO, FL, January 7, 2020 — Kohl's grant to The Howard Phillips Center for Children and Families, part of Orlando Health Arnold Palmer Hospital for Children was made through Kohl's National Giving Program, which awards more than $3 million in grants annually to nonprofits with a mission to support health and wellness for families. The donations are made possible through Kohl's philanthropic program, Kohl's Cares®, which sells children's books and toys and donates 100 percent of the net profit to support happier and healthier communities nationwide.
The Howard Phillips Center for Children & Families, a part of Orlando Health Arnold Palmer Hospital for Children serves the most at-risk families Central Florida. Every day, we are helping thousands of toddlers with special needs, children who have been abused, and teens who lack access to healthcare with our comprehensive, convenient services. The Howard Phillips Center provides free services to at-risk children and families in the tri-county area of Orange, Osceola and Seminole every year through six different programs:
Children's Advocacy Center
Child Protection Team
The Developmental Center
Healing Tree
Healthy Families
Teen Xpress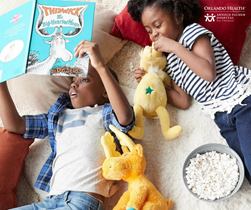 About Orlando Health Arnold Palmer Hospital for Children
Orlando Health Arnold Palmer Hospital for Children is a 156-bed facility dedicated exclusively to the needs of children. Located in Orlando, Arnold Palmer Hospital provides expertise in pediatric specialties such as cardiac care, craniomaxillofacial surgery, gastroenterology, nephrology, neurology, oncology, orthopedics, pulmonology and sports medicine. The Bert Martin's Champions for Children Emergency Department & Trauma Center at Arnold Palmer Hospital is part of the only Level One Trauma Center in the area, and is the first facility in Central Florida to provide emergency care exclusively for pediatric patients. Visit www.arnoldpalmerhospital.com to learn more about all of our specialties.
About Kohl's
Kohl's (NYSE: KSS) is a leading omnichannel retailer with more than 1,100 stores in 49 states. With a commitment to inspiring and empowering families to lead fulfilled lives, Kohl's offers amazing national and exclusive brands, incredible savings and an easy shopping experience in our stores, online at Kohls.com and on Kohl's mobile app. Since its founding, Kohl's has given more than $700 million to support communities nationwide, with a focus on family health and wellness. For a list of store locations or to shop online, visit Kohls.com. For more information about Kohl's impact in the community or how to join our winning team, visit Corporate.Kohls.com or follow @KohlsNews on Twitter.