Jared and Julie have graciously supported Orlando Health since 2011. They have given to our Neonatal Intensive Care Unit at Orlando Health Winnie Palmer Hospital for Women & Babies, The Howard Phillips Center for Children and Families, a part of Orlando Health Arnold Palmer Hospital for Children, our adult hospitals, and are members of our Champions Circle. Jared also serves on our Orlando Health Children's Foundation Board. The Wolovnicks have been an integral piece of our success over the past decade.
How did you become involved in philanthropy?
My family has been involved with charitable giving since before I was born. My grandfather helped build both a synagogue and a hospital in Queens, New York and he and my dad were both honored multiple times as men of the year for various charities.
I started donating my time and money to charitable causes back in 1973 while helping to coordinate a United Nations educational charity and working behind the scenes as a fundraiser for various events. I first became involved with hospital and medical causes around 2006 as a sponsor of golf tournaments for various charitable causes. My involvement with the Orlando Health Arnold Palmer Hospital for Children and Orlando Health Winnie Palmer Hospital for Women & Babies began in 2011 through a golf tournament.
What city do you call home?
My wife, Julie, and I call Windermere our home, but maintain an apartment in Jersey City to be closer to our kids and avoid Florida summers.
How did you meet?
We met on a strange blind date set up by the grandmother of one of Julie's orthodontic patients. We've now been married for 26 years.
What are your favorite hobbies?
We like to travel together (until the pandemic began), usually visiting one of our four Marriott timeshares. Movies have been our stay-at-home passion during this pandemic. Personally, I am a golfer in the true sense of the word. I try to play at least three times a week, usually more. Julie likes to read, watch golf and fish.
What is your favorite quote?
Julie's favorite quote is "The best things in the world aren't things, they are people." I don't really have a favorite quote, but if I did, it would probably be something like"If at first you don't succeed, try, try again." A lot of the good things in my life have come from second chances.
Where is your favorite place to travel?
We love visiting Aruba.
What is something surprising about you?
I taught ballroom dancing for 30 years. Julie had her pilot's license and flew small planes in her earlier life. Her goal is to wing walk someday.
What is your favorite animal?
Our favorite animal is a dog. We have two Papillons!
What are your favorite books?
"The DaVinci Code" and anything by Robert Ludlum are my favorites, while Julie loves "The Clan of the Cave Bear" by Jean Auel.
What would you say are your favorite movies?
Gone With the Wind is Julie's favorite, while mine is Casablanca.
What is your favorite sport?
My favorite sport is golf, but I am also a devoted Yankees fan!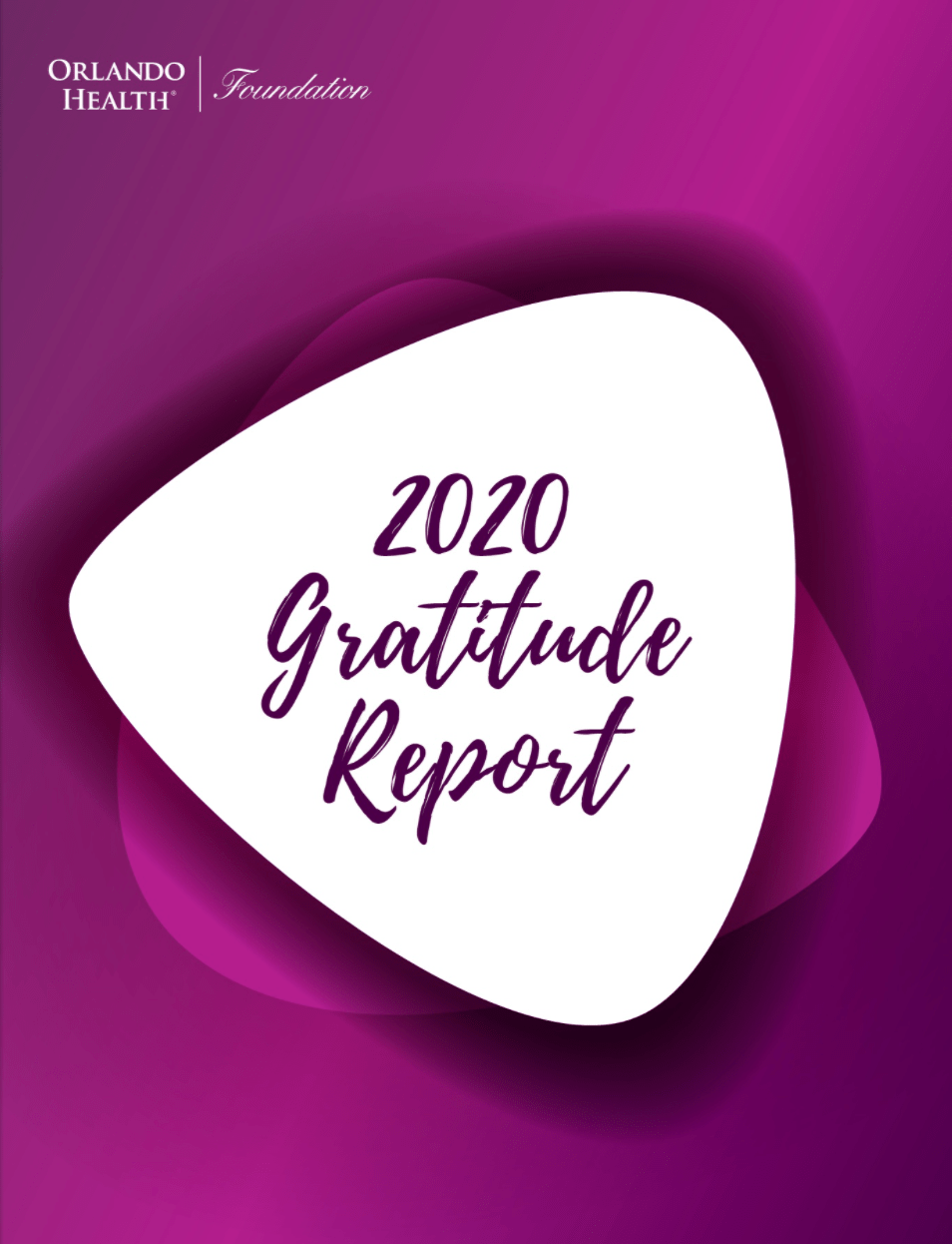 2020 Gratitude Report
This year's Gratitude Report serves to highlight and thank the many wonderful people and organizations that generously provide needed funds to Orlando Health. In it, you will read the stories of how our corporate partners, patients, donors and volunteers leave a lasting mark on every aspect of Orlando Health.
View Online Magazine