Thanks to the generosity of the Bert W. Martin Foundation and the Warden Family, the Warden Burn Center at Orlando Health Orlando Regional Medical Center (ORMC) recently achieved verification as an adult burn center by the American Burn Association. The designation reflects Orlando Health's commitment to excellence and its dedication to providing quality care to patients. The Warden Burn Center is the only verified burn center in Orlando.
According to Dr. Howard Smith, director, Burn Service at Orlando Health ORMC, "Burns are the fourth leading cause of injury in the United States and can occur from many types of injuries including thermal, chemical, friction, radiation and/or electrical exposure. Though all burns are different and can vary greatly in degree, depth and surface area, all burns require specialized treatment to reduce the risk of infection, help with healing, and ensure the best outcomes possible. Our team is experienced with treatment of all levels of burn care."
Achieving Verification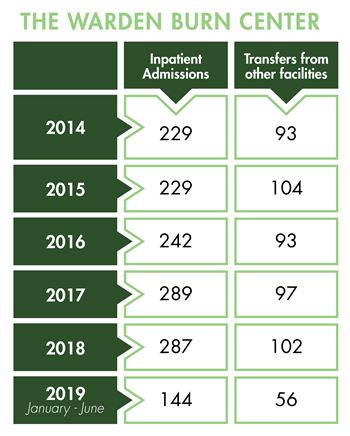 Orlando Health believes that achieving Burn Center Verification supports our commitment to maintaining the highest quality of care for adult burn-injured patients. Verification will affirm our dedication to safe and effective care delivery with a rigorous systematic approach to standardized quality improvement initiatives, and attests to our record of positive patient outcomes and successful burn recoveries. In addition, verification is philosophically consistent with the Values, Vision and Mission of Orlando Health.