Help Support Our Hospitality Homes
The Hubbard House and Cynthia C. & William E. Perry Pavilion will celebrate Hospitality Homes Week July 19 - 25, 2017.
Celebrating Hospitality Homes Week
Operated in majority through philanthropic support, both hospitality homes provide families a place to stay that is within steps of their loved ones who are receiving medical treatment at our hospitals.

Hubbard House
The Hubbard House, located on Orlando Health's downtown campus, hosts an average of 50 guests per night who enjoy the comforts of home, including restful accommodations and three meals per day. Guests at the house typically represent families who have loved ones undergoing long-term care at Orlando Health Orlando Regional Medical Center (ORMC) or Orlando Health Arnold Palmer Hospital for Children and provide a much-needed place to relax from the stress of the situation that is still convenient to where the care is taking place.

Thanks to the generosity of countless supporters throughout the years, Hubbard House has served more than 28,000 guests on our downtown campus since they opened in 1994. Hubbard House has received numerous donations of meals, hygiene items, and hours of support from a dedicated team of generous volunteers.

If you are interested in the specific items needed at Hubbard House, please see their wish list.

Cynthia C. & William E. Perry Pavilion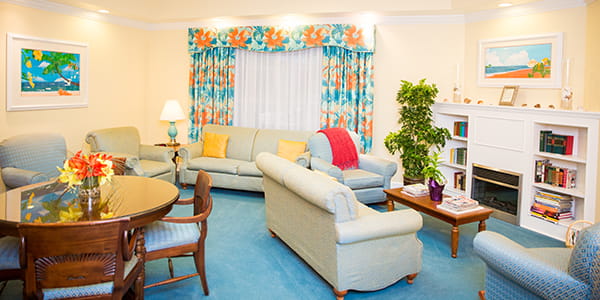 At one time, it was not unusual to find family members of the patients at Orlando Health Dr. P. Phillips Hospital sleeping in the waiting areas, hallways or patient rooms throughout the hospital. That is why the Cynthia C. & William E. Perry Pavilion was built and now serves the needs of hundreds of families each year.

The Perry Pavilion, located inside the hospital, hosts an average of 12 people each night, and has served over 6,000 guests since it opened in 2004. Often, the Perry Pavilion provides support for out-of-town guests whose family member requires medical attention while on vacation in Central Florida.

Donations made in support of the Perry Pavilion help to provide necessary updates including new carpeting, washers and dryers, upholstery and window treatments to combat normal wear and tear.

We need your support
Since the hospitality homes offer accommodations without asking for payment in return, the homes are always in need of support. You can help families during times of crisis by making a gift in support of Hospitality Homes Week. Visit OrlandoHealthFoundation.com/HospitalityHomes.