Community support has always played a crucial role in maintaining the standard of excellence at Orlando Health Orlando Regional Medical Center (ORMC). For close to 30 years, Orlando Health ORMC has served as Central Florida's only Level One Trauma Center, providing life-saving care for patients when it matters most.
In 2017, honoring the importance of life-saving care following the Pulse tragedy, we announced that through the generous donations of our community, we would expand and renovate our Emergency Department as well as the Level One Trauma Center. Taking lessons from that day, Orlando Health ORMC continues to improve the quality and speed of patient care for our rapidly growing community.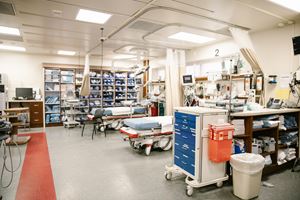 Caring for approximately 300 patients per day, Orlando Health ORMC has one of the busiest Emergency Departments and Level One Trauma Centers in the country. The planned expansion and enhancements include additional room for trauma and resuscitation beds as well as a space designed to handle a surge of patients all at once - in one room. Having a space with the ability to flex in times of critical need, whether it be from a natural disaster, car accident, mass casualty, pandemic or any other tragedy, will help us save time and lives.
Once fully equipped, the Emergency Department will be designed for the greatest efficiencies and outfitted with the latest in life-saving technologies and medical equipment. Given the high-volume of patients, Computerized Tomography (CT) machines are at the heart of the department. Upgraded technology, including two new CT machines, will provide a wealth of valuable information to assist with diagnosis and treatment in strokes, cardiac disease patients, and the severely injured. Although once considered too sophisticated and costly for routine patient care, this technology has now become the standard of care for rapid, safe, and accurate diagnosis.
"In the hospital environment, priorities change quickly. For physicians making critical care decisions, waiting for imaging is an unnecessary roadblock on the pathway to quality and expedient care. Updating and adding to our fleet of CT scanners will enhance what is already an elite emergency department at Orlando Health ORMC." - Jason Burtner, BS, RT, Director, Imaging Services.
These improvements, along with our investment in Epic, a comprehensive electronic health record system, will give greater ease of access to the patients we serve in critical situations. Thank you to our donors who have helped provide the much-needed resources to make these enhancements possible.

Overall Enhancements to the Emergency Department & Level One Trauma Center Include:
Increased Surge Capacity for Mass Intakes

Increased Space for Trauma & Resuscitation Beds

Expanded and Streamlined Ambulance Bay

Upgraded Technology (CT Machines)

Upgraded Communication Systems for Air Care Team

Construction of Clinical Education Center

Construction of Several New Surgical Suites