Families Find Encouragement Through the V 3 Family Foundation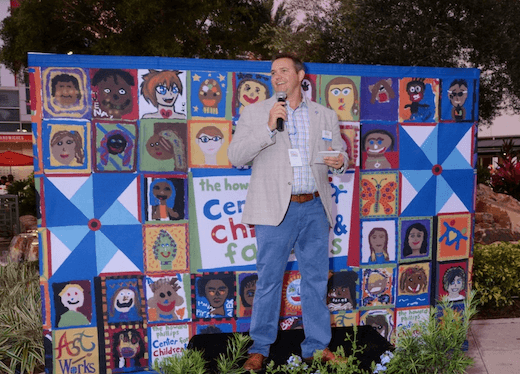 The Howard Phillips Center for Children & Families, a part of Orlando Health Arnold Palmer Hospital for Children, provides a support system and resources for families facing overwhelming challenges. A part of that support system are the donors who make up the Advocates for Children, a multi-year giving society focused on helping those who struggle with significant concerns such as child abuse, lack of access to healthcare and parenting children with special needs.
As Advocates for Children members since the group's inception in 2013 Trey and Carrie Vick have long been champions of The Howard Phillips Center's mission. Through the last decade, the Vicks have continually stepped up to help families meet the challenges life has thrown at them. As Carrie explains, "We love The Howard Phillips Center because of its proactive approach. You're fixing the problems on a lot of different levels prior to them becoming overwhelming obstacles for local families."
At the close of 2021, the Vick family set up the V 3 Family Foundation, a new and exciting frontier in their giving journey. By leveraging the power and benefits of a foundation to meet their philanthropic goals, the Vicks have been able to increase their impact on not only The Center, but additional causes close to their heart.
The V 3 Family Foundation is focused on three pillars critical to a healthy and prosperous community and country: advancing faith, strengthening families and protecting freedom. Through these three key areas, they wish to leave a mark on the communities where they live and work.
Where The Howard Phillips Center really shines, is in its ability to uplift families here in our local communities. "I think the family is the core of a community", says Trey, "To have an organization that's truly focused on building and sustaining healthy families – focusing on physical health, emotional health and parental health - that's such a core issue that a lot of other things can spin-off of it. We want to invest our money in areas that are at the core of what makes communities work."
Why Start a Family Foundation?
As their family and business - V3 Capital Group - grew in the last two decades, their philanthropic support grew as well. Starting a family foundation has allowed them to plan for their giving in new and more developed ways, including their children in the process.
After meeting with their certified public account and attorney, Trey and Carrie determined a family foundation would best meet their needs. Allowing them to:
Decide on an annual donation amount, providing key tax benefits without having to immediately earmark or disperse the funds to a non-profit,
Provide future opportunities for V3 Capital employees to donate via payroll or host their own charity fundraisers in support of the V3 Family Foundation, knowing they spend time to research the best non-profits, and
Engage their children in the giving process, not only as current or future board members, but allow the family to discuss charitable options and plan their future legacy.
As Trey, Carrie and their children (Brandon, 21; Bailey, 19; Bella, 14) form a family legacy of their own through the V3 Family Foundation, families in Orange and Osceola counties are already feeling the influence of their philanthropy through the services provided by The Center which they support.
---
Trey Vick's Service to the mission of The Howard Phillips Center has included:
Member, Orlando Health Children's Foundation Board
Chair of the Community Leadership Council (CLC)
Chair, Spring Swirl Fundraising Event
Leading voice behind The Center's "1 Million Reasons" fundraising initiative
Founding member of the Advocates for Children Giving Society
---
The V 3 Family Foundation will focus their funding on three key areas:
Faith – to advance the kingdom of Christ through education, evangelism and spiritual formation.
Family – to advance the health of the overall family structure and promote traditional family values. This includes organizations with a focus on child abuse, education, developmental delays, mental/physical health, and issues impacting seniors and their families.
Freedom - to promote and defend the freedoms we enjoy as Americans through investments in veterans and service member organizations, primarily, but also focus on all rights afforded to us by the Constitution of the United States.