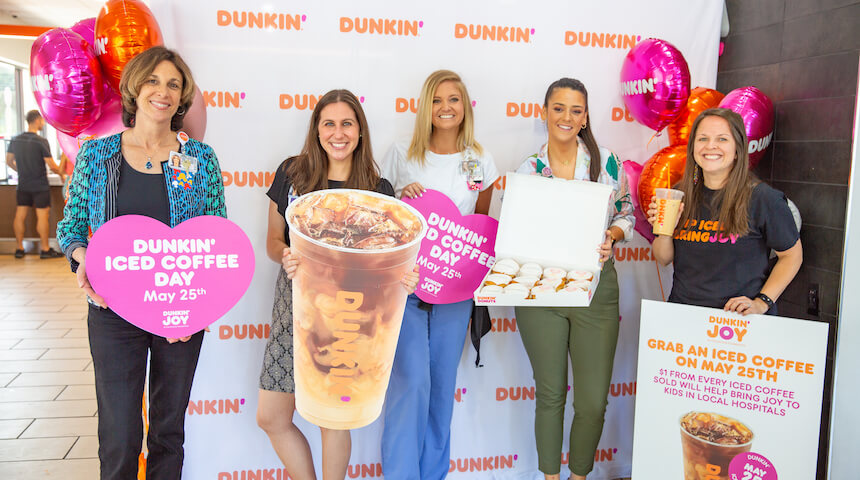 Founded in 2006, the Dunkin' Joy in Childhood Foundation holds a mission to provide the simple joys of childhood to kids battling hunger or illness. Through the Foundation, local Dunkin' restaurants are proud supporters of the kids and families treated at Orlando Health Arnold Palmer Hospital for Children.
By hosting fundraising campaigns such as Iced Coffee Day in May and Shine Gold Donut in September, and providing grant support and in-kind donations, Dunkin' has donated over $145,000 to the Orlando Health Foundation.
This year, Iced Coffee Day took place on May 25. To celebrate the day, participating Dunkin' restaurants across our community donated one dollar to Orlando Health Arnold Palmer for each iced coffee sold. In total, Dunkin's Iced Coffee Day raised $30,000 for the kids and families we serve.
"Dunkin' Franchisees are local to the communities of the Orlando market and have all experienced the amazing work of Orlando Health Arnold Palmer, whether personally impacted or connected through their team members who work in their restaurants. We are all looking for ways to give back and make a difference and know that these fundraisers are just one way we can contribute to a greater cause," says Larry Lemos, Dunkin' Franchisee.
Funds raised by national and local companies, often alongside their employees and customers, help provide advanced equipment, research and programs that allow us to care for local kids in the best way possible.
This September, Dunkin' continues their support for Orlando Health Arnold Palmer through the Shine Gold Donut campaign, honoring Childhood Cancer Awareness Month. From September 14 – 28, guests to Dunkin' will be able to donate $2 and receive a free Shine Gold Donut as a thank you for their contribution. Funds raised through the Shine Gold Donut Campaign support the Haley Center for Children's Cancer and Blood Disorders.