Philanthropic support makes life-saving care at Orlando Health possible. We want to recognize a portion of the donors who have provided leadership gifts to Orlando Health and continue to invest in our mission year-after-year. Thank you for your continued impact on the future of our community, making a difference in the lives of thousands of individuals and families.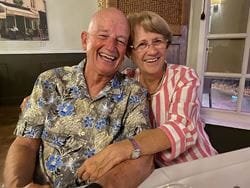 Bill and Debbie Dillard
As leaders in the community throughout their decades in Orlando, William "Bill" and Deborah "Debbie" Dillard have made philanthropy a cornerstone of their professional and personal lives. When friends of the Dillard's were involved in a serious motor vehicle accident out of town, the local trauma center saved their lives – making a lasting impression on the importance of having a trauma center close to home. Bill and Debbie have provided key funding necessary to make life-saving trauma care possible here in Central Florida.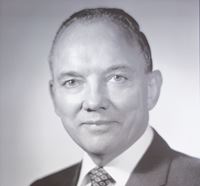 Clifford & LaVonne Graese Foundation
Clifford and LaVonne Graese's support of Orlando Health began in 1988, but their family's commitment to enhancing patient care became more personal when Clifford was diagnosed with Multiple Myeloma. Seeing the need for a resource center on the hospital campus, building a library became Clifford's dream. Through a major gift, the Clifford E. Graese Community Health Library was established in 2000. The library and its staff help patients, family members, healthcare professionals and community members better understand a healthcare diagnosis. In recent years, the library has evolved into a large network of electronic resources. Having since passed, Clifford and LaVonne's children Diane Graese, Sally Daugherty, Susan Alfirevic and Larry Graese continue to support the library through generous gifts.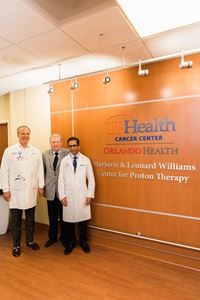 Williams Family Foundation
The Williams Family Foundation has been instrumental in bringing proton therapy to Orlando Health through the construction of the Marjorie and Leonard Williams Center for Proton Therapy. Funded through philanthropy by Leonard Williams, the center opened in April 2016 and served its 500th patient last year. Leonard brought this cutting-edge treatment to Central Florida in tribute to his late wife, Marjorie. Proton therapy is a form of radiation treatment that delivers a precise dose directly to the tumor, shrinking the tumor while sparing the surrounding, healthy tissue. The result is a better option for treating some types of cancer, especially pediatric and adult cancers near vital organs. The center has had a major impact on the Central Florida community, offering leading-edge technology to improve cancer care and reduce traditional treatment side effects.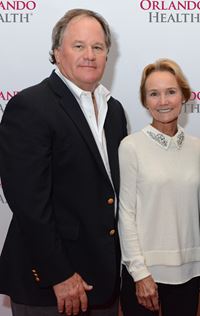 Bert W. Martin Foundation
The Bert W. Martin Foundation has been transforming care at Orlando Health since 1988, most often funding projects that require ongoing, long-term support. Since their first gift as part of the campaign to build Orlando Health Arnold Palmer Hospital for Children, the foundation has provided nearly $9.5 million in critical funding. Their support has helped Orlando Health build the Bert Martin's Champions for Children Emergency Department & Trauma Center as well as the Warden Burn Center, the only verified burn center in Orlando. Without the Bert W. Martin Foundation and the extended Warden Family, Central Florida would not have the critical care resources Orlando Health needs every day to provide expert healthcare for our community.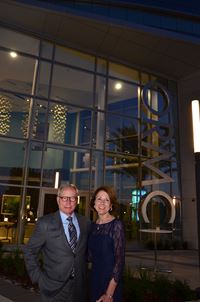 David & Linda Hughes
David and Linda Hughes have partnered with Orlando Health to provide comprehensive, quality healthcare. Their dedicated involvement in the Central Florida community can be seen through their generous support of every major effort Orlando Health has launched in the last several decades. These efforts include the original construction of Orlando Health Arnold Palmer Hospital for Children and Orlando Health Winnie Palmer Hospital for Women & Babies, as well as the expansion of the Neonatal Intensive Care Unit, the newest patient tower at Orlando Health Orlando Regional Medical Center and support for the expansion of our Level One Trauma Center. As philanthropic leaders in our community, the Hughes' have remained dedicated to our mission for more than 30 years.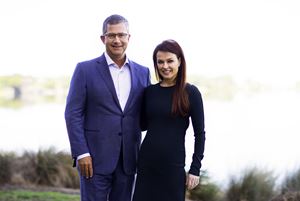 Jonathan and Krista Ledden
When Jonathan and Krista Ledden moved to Central Florida in 2014, they dedicated themselves to giving back to their new community. After joining the Orlando Ballet Board, they soon became connected with the ballet's medical provider, Orlando Health. Jonathan recognizes the importance of having a trauma center close by for critical care cases after seeing his father suffer from a critical dissecting aortic aneurysm when he was only 13 years old. It is because of that incident that Jonathan and Krista have become instrumental in making sure acute care is available to everyone in our community. Their commitment to expand our trauma services will be felt throughout Central Florida for decades to come.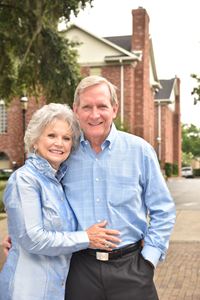 Steve and Deborah Schrimsher
Steve and Deborah Schrimsher have been connected to Orlando Health since the birth of their three children, all born at Orlando Health Orlando Regional Medical Center. Steve became more closely connected through his service on the Orlando Health Foundation Board and Deborah spent time volunteering in the Neonatal Intensive Care Unit at Orlando Health Winnie Palmer Hospital for Women & Babies. Through the decades, the Schrimsher's have financially supported the Orlando Health Arnold Palmer Hospital for Children Endowment Fund and the Orlando Health UF Health Cancer Center, where Steve's mother received treatment. Most recently, a gift made through their company, Schrimsher Properties, is slated to impact the expansion of our Level One Trauma Center. "We believe that it is our responsibility to take care of our neighbors and our community in their greatest time of need," said Steve and Deborah. "We are very blessed to have a Level One Trauma Center here in Orlando and it brings us great joy to help provide for the care they give."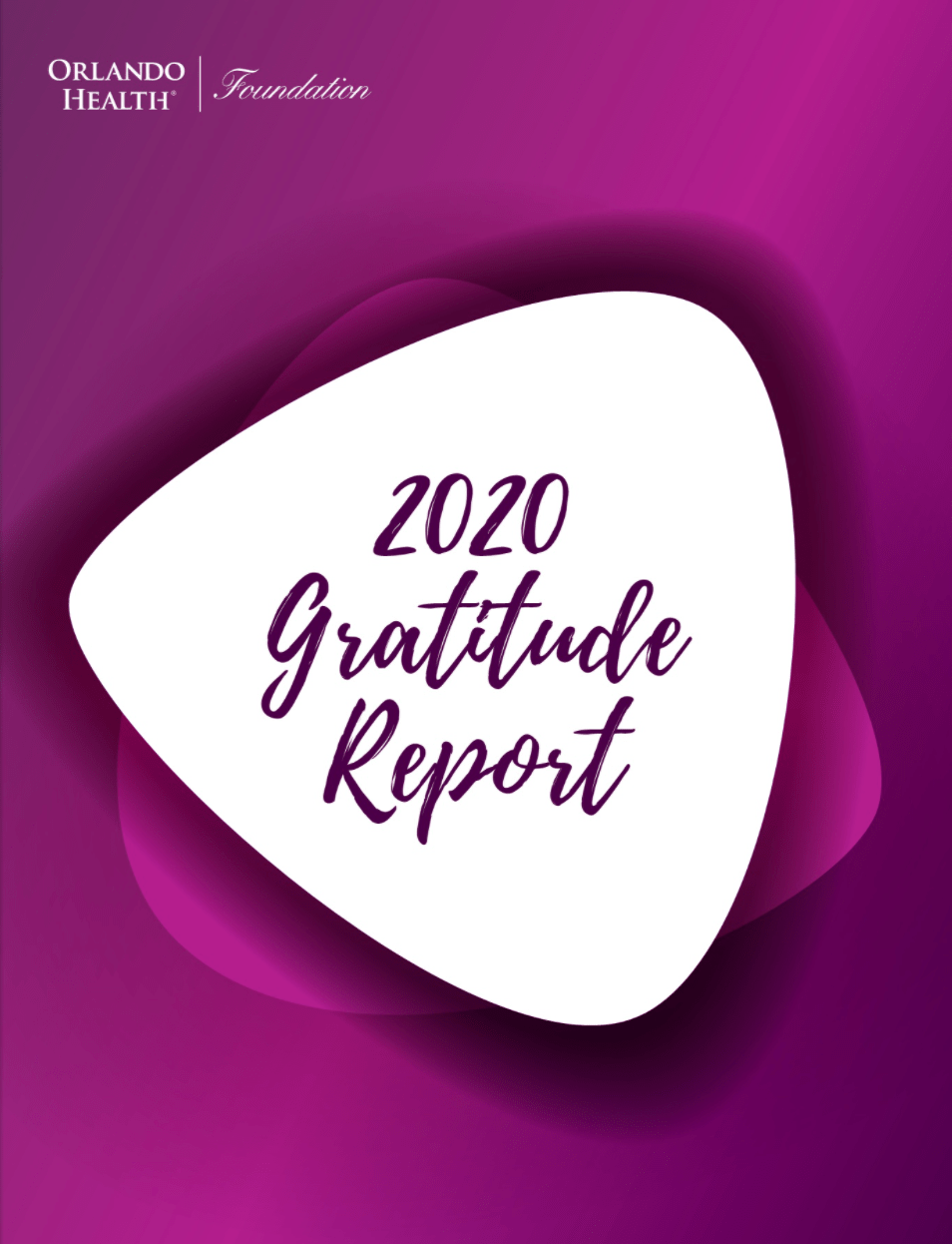 2020 Gratitude Report
This year's Gratitude Report serves to highlight and thank the many wonderful people and organizations that generously provide needed funds to Orlando Health. In it, you will read the stories of how our corporate partners, patients, donors and volunteers leave a lasting mark on every aspect of Orlando Health.
View Online Magazine