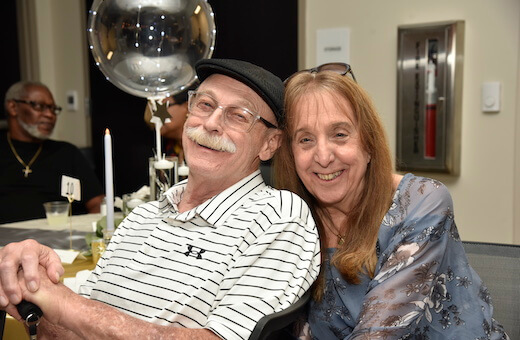 Orlando Health team members care for patients beyond their medical treatments. For Karline Brown, a Speech Language Pathologist (SLP) at Orlando Health Orlando Regional Medical Center (ORMC) Institute for Advanced Rehabilitation, that holistic care involves addressing the change in personal relationships when a loved one transitions from a partner or family member, to their new role as patient caregiver.
In the clinic where Karline works, many patients are cared for following the occurrence of a stroke, traumatic brain injury or spinal cord injury. Due to the severity of their diagnosis, these patients all have caregivers, often a spouse or close loved-one, who care for them each day.
Wanting to lift some of the weight off patients' and caregivers' shoulders and let those personal relationships take center stage, even just for one night, Karline decided to host a dinner event.
"For a lot of patients, I notice their significant others become their caregivers, which is a full-time job. I thought it would be a great opportunity if we could host a dinner for patients and their significant others where they didn't have to focus on being a caregiver. I wanted it to be an opportunity where they could be themselves with their partner, and just enjoy the night," says Karline.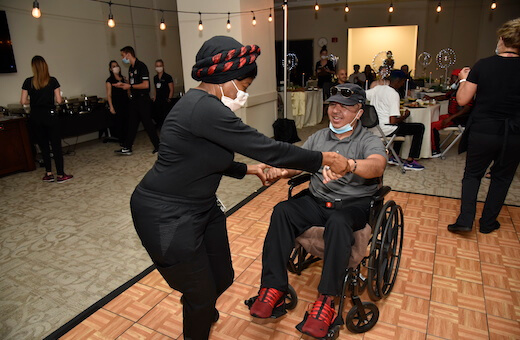 With assistance from their team members, Karline and fellow SLP Jennifer Rego hosted the dinner on June 17. A variety of patients with different diagnoses were invited to the evening, with a total of 36 guests gathering in the North Tower at Orlando Health ORMC. The room was decorated for the "Dinner Under the Stars" theme and featured high-end catering provided by the hospital. Couples were seated and served their food by the Orlando Health outpatient and inpatient rehabilitation team. With physical therapists there to assist patients with adaptive equipment, patients were able to eat, dance and socialize worry-free throughout the evening.
The event was supported through a grant from the Fraternal Order of Eagles and made a difference in these patients' and caregivers' lives. For many patients with these types of injuries, venturing out into the community can be frightening for fear of feeling different or judged. However, in this unique setting, patients were not only able to enjoy themselves, but build the confidence necessary to re-engage with the world around them after an injury.
Adaptive menus were provided for patients who were unable to read, displaying pictures so they could choose their meal independently. The rehab team even implemented the green-card and red-card system used at popular restaurants so patients could signal to staff whether or not they needed assistance, without the patient having to have the spotlight on them throughout the night.
"The patients and caregivers were amazed, and they were so grateful because many of them have not gone on dates for a year or two," recalls Karline. "Just seeing their faces on the dance floor, maybe dancing to their weddings song, was a tear-jerker."