Continuing the Legacy of Jack and Corrine Reichert
From the beginning of their relationship, Jack and Corrine Reichert were committed to helping others. Losing his parents at a young age sparked a passion in Jack to meet the needs of those in challenging situations – especially children. In Corrine, he found a partner who had a similar heart for those in need. Jack and Corrine raised their family in the Midwest and began a legacy of improving the lives of children and families.
The Reichert's faith, compassion and work ethic led to a thriving family. Jack excelled in his career at Brunswick Corporation, leading him to become CEO of the company for 13 years.
Keeping in mind their favorite scripture "to whom much is given, much will be required," the Reichert Foundation was formed in 1987 with a focus on providing shelter for families as well as supporting disabled or critically ill children.
The Reichert family was introduced to Orlando Health in the late 90's with the birth of their granddaughter, Tara, who spent time in the Neonatal Intensive Care Unit (NICU) at
Orlando Health Winnie Palmer Hospital for Women & Babies. Unfortunately, Tara passed away due to a heart defect shortly after birth. The care their family received led the Reicherts to support the work of Orlando Health along with Tara's parents, Susan and Dan Milanak. Susan and Dan now have three additional children – two of whom were born at Orlando Health.
Today, the family continues to serve those in need as the next generation, Jack and Corrine's grandchildren, continue their extraordinary legacy.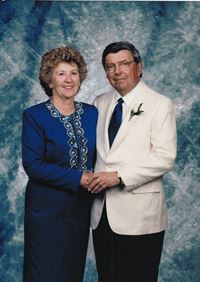 This year, the family lost their matriarch, Corrine Reichert. An expert bridge player, who also enjoyed reading, golf and bowling. Corrine was always the first person to raise her hand to volunteer to babysit her grandchildren. A life-long philanthropist, Corrine served as President of the Reichert Foundation until her passing in August of 2021. Her children and grandchildren describe Corrine as fiercely independent and abundantly compassionate, with a genuine love for the mission of the family foundation.