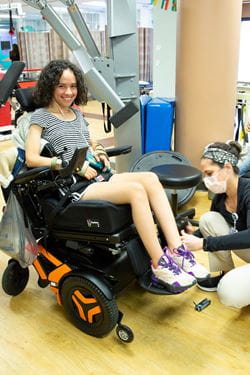 As Central Florida's only Level One Trauma Center, Orlando Health Orlando Regional Medical Center (ORMC) sees an average of 79 patients per year that have been diagnosed with a spinal cord injury or disorder (SCI/D). Our team helps individuals with SCI/D progress through the rehabilitation program, from acute care through inpatient and outpatient rehabilitation settings. The Orlando Health ORMC Institute for Advanced Rehabilitation is the go-to program to care for these individuals, offering them education, wellness and support throughout their lives.
A SCI/D can occur in many ways, such as from an injury, illness or disease that alters nerve function. These injuries can result in temporary or permanent changes to normal motor, sensory or autonomic function of the spinal cord. SCI/D can cause permanent and profound neurologic impairment, resulting in mobility deficits.
While individualized therapy helps to address independence at all levels of care for these patients, there is still limited access to resources that can help individuals living with SCI/D maintain a healthy lifestyle.
To help provide these resources, the Christopher & Dana Reeve Foundation recently provided Orlando Health with a $16,000 grant in support of individuals living with paralysis.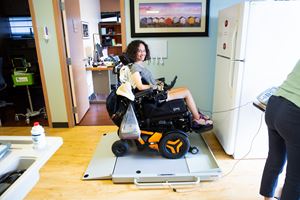 Thanks to this grant, Orlando Health is able to provide community access to much-needed equipment, including a wheelchair accessible scale (pictured right) and a pressure mapping system, as well as offer a free seating clinic. The clinic is coordinated by skilled specialists in seating and positioning who provide recommendations to individuals on equipment and seating systems, along with strategies for effective pressure redistribution. Participation in the clinic is free, and is open to any individual living with paralysis in Central Florida.
This assessment and education is a critical tool in maintaining the health and wellness of our community. Many individuals with SCI/D do not have an opportunity to receive an accurate measurement of their weight on a regular basis, nor can locate accessible scales that will accommodate the size of their wheelchair. The ability to monitor weight over time can help these individuals correlate the impacts of nutrition, physical activity and other medical conditions on their weight.
As the largest organ in the body, the skin's integrity and health is highly essential, especially in individuals with SCI/D. It is critically important that these individuals are aware of their positioning and areas of risk, in order to avoid the development of pressure related skin injuries. Having access to a pressure mapping system, when used as a combined diagnostic and educational tool, provides real-time feedback for the clinician and participant, and has a direct impact on an individual's independence and well-being.
"Our ultimate goal is to improve the quality of life and empower individuals to access personal health information, increase their knowledge about their specific conditions and modifiable risk factors, and improve overall health and wellness in the spinal cord injury community," says Stacy McGinnis. "Through the spinal cord injury clinic, we aim to reach 300 individuals with spinal cord injuries and their families and caregivers annually, free of charge."
Thanks to the Christopher & Dana Reeve Foundation, Orlando Health has increased its ability to support individuals with SCI/D in Central Florida. This program has given these individuals the knowledge and equipment needed to meet their specific seating and mobility needs.