Is a Charitable Gift Annuity Right for You?
If you would like to make a donation to the Orlando Health Foundation and are interested in supplementing your income, consider a charitable gift annuity.
Q. How does a charitable gift annuity work?
A. You give cash or securities to the Orlando Health Foundation in exchange for a fixed income for life for one or two people whom you select. What's left of your gift after the lifetimes of the people receiving payments helps support our mission.

Q. How are the payment amounts determined?
A. The annual rate of your payment is based on your age at the time of the gift. The older you are, the higher your gift annuity rate. Payment rates are locked in for the duration of the gift annuity.
Q. What are my tax benefits for making this type of donation?
A. You qualify for a sizable charitable income tax deduction (when you itemize) in the year you set up the gift annuity. In addition, each year a portion of your payment is income tax–free, until you reach your anticipated life expectancy. Plus, part of your payments may be taxed at a lower capital gains tax rate.
Get Payments When You Need Them
You can also set up a deferred gift annuity where you delay receiving payments until a later date—such as when you reach retirement. You'll get the income when you need it most, and the payout rate and your tax deduction will be significantly higher than that of an immediate payment gift annuity.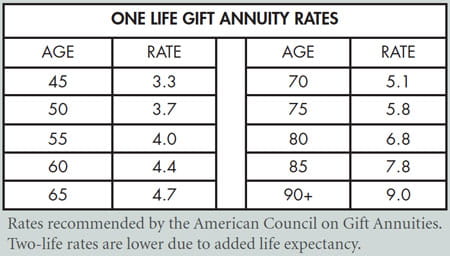 For more information about how you can make a difference at Orlando Health through a charitable gift annuity, contact the Office of Planned Giving by calling 321.841.6612 or by emailing Tiffany Collier.
© The Stelter Company | The information in this publication is not intended as legal or tax advice. For such advice, please consult an attorney or tax advisor. Figures cited in examples are for hypothetical purposes only and are subject to change. References to estate and income taxes include federal taxes only. State income/estate taxes or state law may impact your results.
A charitable gift annuity can provide you with a lifetime of annual payments and the satisfaction of ensuring exceptional healthcare in Central Florida.
Learn More