Morgan, a 12-year old Labradoodle, and Tiberious, an 11-year old Chow, are dogs with jobs. Every week, they visit behavioral health patients at Orlando Health South Seminole Hospital as part of the PetSmart Paws for Hope program.
It takes a special kind of dog to visit behavioral health patients and be ready for the unexpected. Morgan and Tiberius have been trained to remain calm no matter the situation. There is a complicated process that must be followed every time they enter the unit and every time they leave, and safety is always top of mind.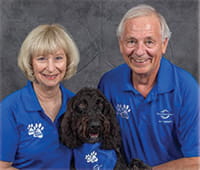 MEET MORGAN
Morgan's family was told by their vet that he would be a great candidate for pet therapy when he was two years old, so they decided to get him registered by Pet Partners and started taking him to nursing homes around Central Florida.

It was at one of Morgan's evaluation sessions – therapy dogs need to be re-evaluated every two years to remain active – that his family was approached by the coordinator of Orlando Health's pet therapy program. After one year at Orlando Health UF Health Cancer Center, Morgan made the change to South Seminole Hospital and has been there for more than four years.

"I am the conductor, but Morgan is the music," explains his owner and handler. "Morgan is the one who does the work. He gets a tremendous response every time he visits the patients and is met by a lot of smiles and hugs. I really enjoy watching Morgan do his job, because I know he is giving patients the emotional stimulation they need." Soon, Morgan will be retiring from his work and is being followed by Wally, who has watched his older 'brother' perform his job with such success.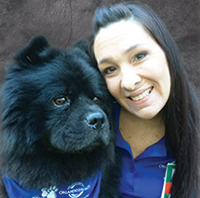 MEET TIBERIOUS
At five years old, Tiberious was finally adopted into his forever home, mostly in part to his laid-back behavior and love of kids. Not long after, his owners decided to take Tiberious for his K-9 Good Citizenship Award – proof that you have a dog with neutral behavior that is good with people.

Much to the surprise of the trainer working with Tiberious, Chow's are often labeled as temperamental, he passed on his first try. The trainer was so impressed, in fact, that she asked his owner if she ever considered getting him registered as a pet therapy dog. After receiving his registration from Intermountain Therapy Animals, Tiberious started visiting South Seminole Hospital in 2012.

"I felt that Tiberious was meant to be there the first time we visited," explained his owner and handler. "When Tiberious walks in, people just stop and want to touch him. I can see them start to relax, their fists unclench, muscles become less tense, and they just seem a little happier. Many of the patients are missing their own pets and the visits give them an opportunity to start conversations and take their mind off their current situation."