An Extra Test Can Save a Life
For many people, when they think of a heart attack, they think of chest pain and tightness, but those symptoms are not always present.
Such was the case for Jim Clark, an active pharmaceutical rep who often makes his rounds at Orlando Health –Health Central Hospital. Jim loved going to sporting events, the beach and taking walks to keep healthy, but noticed one day that he was short of breath and didn't have his usual energy.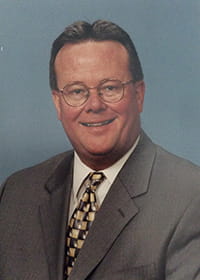 After a few months of not feeling himself, Jim made an appointment with his doctor at Health Central to try and find out what was wrong. Jim had a family history of heart disease, but just kept telling himself that it didn't feel like a problem with his heart because he didn't have the symptoms he expected. Jim's doctor ran a blood test and performed a nuclear stress test and both came back negative.

On paper, everything appeared to be OK, however, Jim, his wife, and even the doctors, didn't agree.

Cardiac Calcium CT Score
Determined to find the cause of Jim's symptoms and complaints, and knowing his family history of heart disease, his doctor suggested another test. Not covered by health insurance, the Cardiac Calcium CT Score costs just $100 and uses a special CT machine to produce pictures of the beating heart. The scan determines an Agatson score that reflects if the coronary arteries are blocked or narrowed by the buildup of plaque.

"In general, the higher the score on this test, the more likely the patient has heart disease and will need further tests," said Rey Grullon, Cardiovascular Clinical Supervisor at Health Central. "Jim's doctor wanted to see a score less than 300, but the results came back in the thousands and created a major cause for concern."

Jim's Cardiac Calcium CT showed a significant calcium build up and he was diagnosed with atherosclerosis of the coronary arteries. He was then scheduled for a diagnostic heart catheterization, where a catheter is placed into the wrist artery. The results that came back from the test were a shock to everyone –Jim had a 96 percent blockage in one of his main arteries and was close to a massive heart attack if the problem had not been found.

The Road to Recovery
After a routine and minimally-invasive procedure, a stent was placed and Jim went home the next day. Through a referral from his cardiologist, Jim completed 8-weeks of cardiac rehabilitation and returned to his regular active lifestyle in a short amount of time, which would not have been the case if the test had not been completed and the blockage was not discovered.

"The Cardiac Calcium CT Score has little risk, and as Jim's story shows, can save your life," said Grullon. "I am so happy that we are able to offer this test to our patients as an extra step in their journey to better health."
To learn more about the life-saving care provided at Health Central Hospital directly from Rey and other team members, join us for a tour of our facilities.

Visit TourHealthCentral.com to sign-up for more information.