The Orlando Health Foundation said goodbye to a dear friend, Ruth Hubbard, who passed away on March 14, 2018 at the age of 96. Ruth was born in Frostproof, FL on August 6, 1921 to the late Leonard and Ruth Scorgie.
She grew up in an orange grove and at the age of 16 graduated from high school a year early and attended Florida State Woman's College, which later became Florida State University in Tallahassee.
A few years later, Ruth's mother introduced her to Frank Hubbard, a Rollins College student who was spending his summer in Frostproof building a road for his family's construction company, Orlando-based Hubbard Construction. The couple dated long distance while Ruth studied piano at the Cincinnati Conservatory of Music and later married in 1941.
Frank enlisted in the service shortly after their wedding, shipping out just before their first anniversary and was overseas for the next four years. When Frank returned to the US, he and Ruth moved to South Carolina, so he could run a second location of Hubbard Construction. After giving birth to their son, Evans, the family moved to Orlando in 1949. The Hubbard's later added a daughter, Connie, to the family and took in a foster son, Eddie Mesa, a refugee from Cuba when both he and Evans were 14.
Frank preceded his wife in passing in 2007, but Ruth is survived by her children Connie Miller and Evans Hubbard; foster son, Dr. Eddie Mesa; grandchildren, Mike Hubbard, James Handberry, Brandon Miller, and Joe Mesa; and great-grandchildren, William and Locklin Hubbard.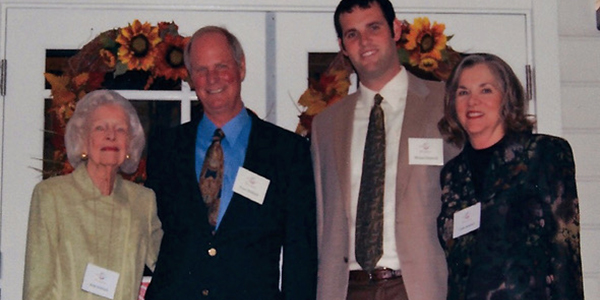 A Life Well Lived
Ruth Hubbard was best described by those who knew her as gracious, loving and kind. She loved cats, always put her family first and made it her job to passionately support her husband both personally and professionally. Ruth was a charter member of St. Michael's Episcopal Church and never missed a service when she was in town. Ruth was an active board member for A Friends' Foundation, contributing more than $11,000,000 to mostly local charities.
With a love for entertaining, Ruth had a knack for being able to sit down and talk with anyone about anything. Until the day she passed, Ruth was determined to do something good for someone every day and always put others first. Ruth planned her own Celebration of Life and told her son Evans to do two things upon her passing – call the caregiver to take her cats, and, say hallelujah (which is how Father Luoni ended her Celebration of Life).
The Hubbard House
Frank Hubbard served as Chairman of the Board for Orange Memorial Hospital, following in his father's, Francis Evans Hubbard, footsteps. Francis Evans served in the same position for the hospital when it was called Orange General. Upon Francis Evans passing in 1954, the community raised money to add a wing on to the hospital in his honor and named it the Hubbard Wing. Eventually, the wing was replaced with what is now Orlando Health UF Health Cancer Center, and with the family's blessing, the Hubbard name was moved to Orlando Health's home-away-from-home; a place for families of patients to stay while their loved one is being cared for in the hospital.