A Generous Gift in Honor of a Big Heart
Madison (Maddy) Flaherty was just short of her fifth birthday when she lost her battle to Cockayne Disease, a very rare neurodegenerative disorder. She and her twin sister, Morgan, had a seemingly normal delivery, but over time the family noticed that Maddy was not meeting the expected milestones.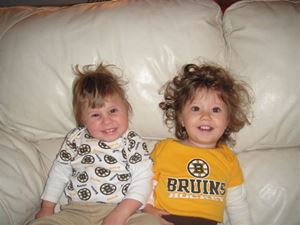 Because Maddy spent all of her short life fighting a rare disease, her parents often found it hard to receive insurance coverage for her treatments and to even qualify for the treatments in the first place. It is in part due to this struggle, and also because of Maddy's big heart, that her family created Maddy's Mission to Help, a foundation that aims to keep Maddy's legacy alive by providing Orlando Health Arnold Palmer Hospital for Children funds to assist in securing the equipment necessary to treat other kids in rehabilitation with needs similar to Maddy's. It is with this mission, and with great generosity, that the foundation recently gifted the hospital $125,000.
"We are so excited to offer an AAC Lending Library in honor of Maddy," explains Jennifer Smith, Outpatient Rehabilitation Services supervisor at Orlando Health Arnold Palmer. "Although she was not able to talk, Maddy always let us know how she was feeling and was eager to interact with her therapists, whether it was to give a hug or shake her head 'no.' Maddy, and her family quickly became part of our therapy family. Therapists spent time coming up with creative ways to interact with her and she was always up for the challenge. The team is grateful for the amazing work her family has done in keeping her legacy alive in the community."
"Because of Maddy's Mission to Help, kids just like Maddy have the opportunity to communicate and interact with their environment in new and exciting ways. During speech therapy sessions, the child's treating therapist chooses the right device to take that child to the next level. These devices are a fun and interactive way to give children a voice and make meaningful connections their family and the world around them. We are so grateful to for this inspiring gift."
Maddy is remembered by all who met her for her amazing personality and unforgettable smile and will now forever be remembered by the kids and families that are helped by Maddy's Mission to Help.
The Maddy's Pro-Am is celebrating its 6th year and will be held at the Reunion Resort and Golf Club on May 31, 2020. This event is a fun filled day of golf and laughs with local and national celebrities from movies, TV and sports. Foursomes and sponsorship are still available but selling out fast. For more information please contact Scott Novak at (305) 796-7639 or go to https://maddysproam2020.eventbrite.com