Over the course of two separate evenings, nearly 200 guests gathered on the doorstep of Orlando Health Arnold Palmer Hospital for Children at the Be the Difference fundraising dinner. Guests enjoyed a nostalgic reflection of the incredible ways philanthropy has shaped the present day mission of, Orlando Health Arnold Palmer Hospital and Orlando Health Winnie Palmer Hospital for Women and Babies.
Equally exciting - attendees heard a bold vision for future projects that will be transformational in the ways we deliver care for kids and families in our community. Highlights of the evening were the personal testimonies shared by grateful patients, frontline team members and organizational leadership through a storytelling tour.
Special thanks to all who attended, contributed and / or played an instrumental part in the events' successful outcomes including our generous sponsors and partners.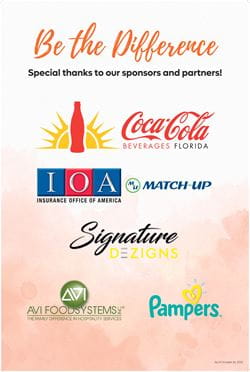 For information about participation in future events and activities, contact Melissa Anthony, Senior Director, Orlando Health Foundation.