David and Sara Ball are generous philanthropic supporters of the Arnold Palmer Medical Center Foundation and also give selflessly of their time through volunteering and raising awareness.
David and Sara Ball find joy in giving back to the community and one meaningful way they have done so is through their involvement with Arnold Palmer Medical Center. They were first introduced to the hospital nearly ten years ago through Sara's involvement with the Central Florida Women's League. It began as an effort to give of their time but soon turned to a true passion once the children captured their hearts.
Sara and her dog Ginnie later enrolled in the hospital's Pet Therapy Program and began making frequent visits through the halls to visit with the children. "It's about the kids," she say. "Their faces just light up when they see Ginnie." Sara recalls, "I remember this one little girl was in a bad mood and wouldn't talk to anyone, but when we walked in the room she immediately smiled when she saw Ginnie. It's moments like this which inspire me most," beams Sara.

In addition to their volunteer efforts, David and Sara are also gracious supporters of the Arnold Palmer Medical Center Foundation, most recently providing a significant gift to help create a bone marrow transplant program at Arnold Palmer Hospital to benefit children with cancer.
Having this new program in place will enable our current team of specialists to conduct bone marrow transplants so that children in need of this treatment can remain in the highly skilled and comfortable surroundings at Arnold Palmer Hospital, and continue to be close to home.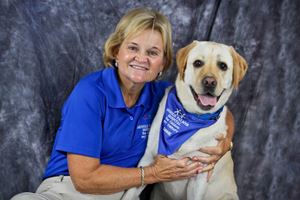 The Balls decided to help build this new program after learning that [these] children currently have no option but to leave the area for this critical treatment. David and Sara want to see this change. They comment, "We need to do our part. We have seen the impact on families who have had to travel to receive this treatment, and we want to help keep them here."

The Balls' dedication to the mission of Arnold Palmer Medical Center is an inspiration to many. Sara has engaged many members of the Bay Hill community, starting her own team for Arnie's March Against Children's Cancer and raising funds for the hospital's Center for Children's Cancer and Blood Disorders. Additionally, this year marks the eighth year of the annual toy drive by the Bay Hill Women's Golf Association. This special program distributes toys to the Child Life Program at Arnold Palmer Hospital, providing a variety of activities for patients and their families during hospital stays.

We are deeply grateful for David and Sara's generosity and support. Their selfless giving of their resources and time will help us continue to provide hope and healing to the many children and families who seek treatment at Arnold Palmer Medical Center, now and in the future.