Funded through philanthropy, an enhanced environment coupled with reconfigured spaces makes the experience at the Women's Imaging Center and Breast Care Center more soothing and convenient for patients.
With just one look at a scan, a woman's life can be changed forever.
Luckily for our patients, the Women's Imaging Center connects to the Breast Care Center at
UF Health Cancer — Orlando Health, so they don't have to wait days or drive to a different location to discuss the results of their mammograms. Co-locating services enables complete care in one location, providing the best possible outcome, while minimizing a patient's anxiety.
Before the Women's Imaging Center and Breast Cancer Center renovations were complete, our patients had to walk through the shared lobby to get to the Breast Care Center. Now, patients are able to discretely move from the Imaging Center to the Breast Care Center.
In addition, because of generous donors, patients and families are able to enjoy the lobby and soothing tones throughout the space. After more than 20 years, this renovation was necessary to create a warm, healing environment, consistent with the rest of the Cancer Center.
Unlike other imaging and cancer centers throughout the country, these two centers are equipped with an onsite surgeon and radiologist, backed by a readily available team of medical and radiation oncologists, pathologists and nurses, able to provide all necessary exams and consultations. Now, thanks to the new look and enhanced feel, women are more at-ease during appointments because of the renovations you helped to support.
While receiving news of a cancer diagnosis isn't easy, the strides made in helping to comfort and create a supportive and healing environment help make it easier to handle. You made that happen.
HARRIETT'S: RELOCATED & EXPANDED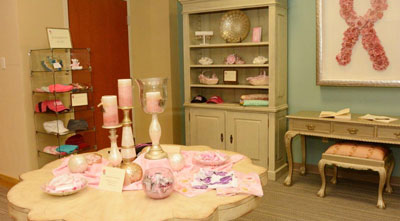 Harriett's, a boutique financed through the generosity of Harriett Lake, has been relocated to a more prominent and accessible area on the third floor of UF Health Cancer Center — Orlando Health. Additional space will allow us to offer clinical goods and services, such as custom-fitted bras and prosthetic devices that complement the "comfort" gift items provided by Harriett's. One patient commented on how Harriett's provides hope and healing for her mother, saying "Thank you for blessing others with this space. My mother's face lights up when she is here."