High school student Nirja Shah, pictured here with Peggy Smith, General Manager, Hubbard House, is climbing Mt. Kilimanjaro in June to raise money for a place near and dear to her heart – the Hubbard House.
To support Nirja's efforts, please visit give.orlandohealth.com/nirjaclimbs to donate to the Hubbard House.
Nirja Shah explains, "When my late grandmother was diagnosed with Parkinson's disease, I quickly understood that an illness affects not only the patient but also the entire family. We are fortunate to be living in Orlando with access to good doctors and hospitals. However, many patients and their families travel from great distances to come here for their medical care."
Many of these patients require specialized, long-term care that may not be available in their local towns. Typically, one or two family members travel to Orlando to provide support and care during treatment. Having a convenient, affordable and safe place for these family members to stay during hospitalization is extremely important.
Nirja knows this firsthand because her family faced a similar challenge when they traveled to China with her grandmother for a month-long treatment. When she learned from her mother, Nikita Shah, MD, a physician at UF Health Cancer Center – Orlando Health, that the Hubbard House provides safe and affordable housing options and care for families of out-of-town patients, she realized that this was her opportunity to give back to the community.
Nirja Shah Climbs Kilimanjaro to Support The Hubbard House from Orlando Health Foundation on Vimeo.
Nirja made a commitment to support the Hubbard House, beginning in middle school. Her commitment has been realized through participating in the annual Horrible Hundred bike race in the Clermont Hills to raise funds. She has named her annual campaigns "Ride the Horrible Hundred for Hubbard House." It took months of intense training because she was one of the younger riders and did not have the experience or the specialized bikes that most of the professional riders in the race do.
Because of her volunteer commitment, Lake Highland Preparatory School nominated Nirja for the "Disney Dreamer and Doer Award." As with all of her fundraisers for Hubbard House, 100 percent of the donations were given to the Hubbard House.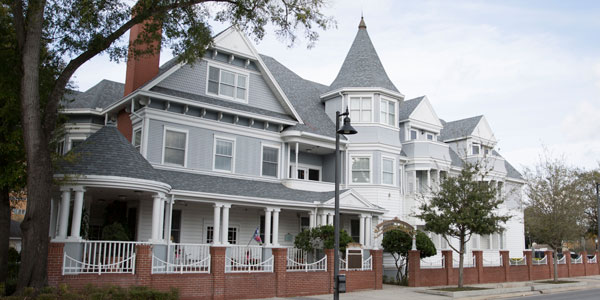 As part of her ultimate fundraising challenge for the Hubbard House, Nirja plans on climbing the tallest mountain in Africa – Mt. Kilimanjaro – in June. It will be a five-day climb up to the summit and a two-day climb down the mountain. Her biggest challenge will be altitude acclamation due to the lack of mountains in Florida on which to train. Most of Nirja's training is based on using an elevation-training mask that helps condition her lungs by creating breathing resistance and lung expansion.
Her brother, Nihar Shah, a sophomore at UCF, will accompany Nirja on the climb. She is grateful for this because "he will be my pillar of support during the climb," Nirja says.
Follow along on Nirja's training journey at www.NirjaClimbsKilimanjaro.com.