A Special Bond Between Mother, Son and the Hewell Kids' Kidney Center
While waiting for the arrival of their first child together, Florina and her husband Jorge were feeling the excitement and anticipation many parents experience. It was during a routine check-up where things began to change. During a standard ultrasound, doctors discovered that their son was showing signs of minimal kidney function.
"I felt like my whole world just collapsed," recalls Florina. Common parent concerns for what might happen after the baby's birth turned into rapid fears of what this would mean for the child's development during the remainder of her pregnancy. Florina's medical team continued to closely monitor her son's development as the weeks progressed.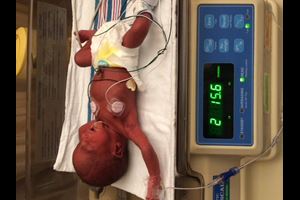 Then, in September of 2016, Nikolai entered the world. Born six weeks early, he spent a month in the Neonatal Intensive Care Unit at Orlando Health Winnie Palmer Hospital for Women & Babies, undergoing multiple surgeries. Immediately after he was born, Florina and Jorge met with Jorge A. Ramirez, MD, medical director for the Orlando Health Arnold Palmer Hospital for Children's Hewell Kids' Kidney Center to discuss a course of action to treat Nikolai's minimal functioning kidneys.
Dr. Ramirez and his team did everything they could to prolong Nikolai needing dialysis so soon after he was born. Yet, at only nine months old, Nikolai was out of options and began hemodialysis. For three days each week, Florina took Nikolai to Orlando Health Arnold Palmer to receive his dialysis treatment. Each treatment lasted at least four hours. At the time, less than a year old, Nikolai was the youngest patient in the Hewell Kids' Kidney Center receiving dialysis.
"We were there so much, we started to build a relationship with the nurses and team there. They became like family," says Florina. "It was the toughest part of my life, and the staff was there for me, providing both personal and emotional support."
Nikolai remained on dialysis for approximately one year, awaiting the day he could receive a kidney transplant. While they were waiting, Florina was tested to see if she could be a potential donor for her son, and results showed that she was a match and would be able to give Nikolai her kidney. At just two years old, Nikolai underwent a successful kidney transplant surgery at a Florida transplant center, all thanks to the kidney donated by his mother.
Never expecting to be in this situation with their child, Florina and Jorge couldn't imagine getting through it all without the help, support and care of the team at Orlando Health Arnold Palmer. "Dr. Ramirez was there with us every step of the way. Both before and after the transplant, he consistently knew everything that was going on with Nikolai's care," says Florina. "I just want other parents to know that there is hope and there is help out there. I felt that I was in great hands and was going to be taken care of. I felt that from the beginning."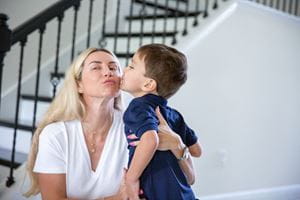 Now almost five years old, Nikolai continues to see Dr. Ramirez on a regular basis to manage his care. In addition to seeing Dr. Ramirez for nephrology, he also sees a urologist, pulmonologist and gastroenterologist at Orlando Health Arnold Palmer and has received physical therapy, occupational therapy and speech therapy to aid in his development. Through all his treatment, Nikolai continues to thrive. He is a joyous kid who loves books, is very active and enjoys playing in the water.
Because of the compassionate care Nikolai and their family received from the physicians, nurses and staff, Florina and Jorge were inspired to give back to Orlando Health Arnold Palmer. "We want to do whatever we can to support the hospital," says Florina. As members of the Champions Circle, Florina and Jorge have given $100,000 to support our mission to provide the best possible care for local kids and families. Their generous support not only honors the team who cares for Nikolai, but further demonstrates their passion to invest in care for kids and families for years to come.