Central Florida's only Level One Trauma Center depends on support from generous donors to maintain the state of readiness to care for our community.
Make a Donation
For more than 20 years, the Orlando Health Foundation has proudly raised financial support and awareness for the Level One Trauma Center at Orlando Regional Medical Center (ORMC). Philanthropic gifts help support the unique needs of the region's only Level One Trauma Center to ensure our physicians, clinical staff, operating rooms and other resources are ready and waiting when it matters most. The support of our generous donors helped save lives following the mass shooting incident on June 12, 2016 – and will continue helping save lives in the days to come.

Most trauma patients at ORMC suffer injuries from car crashes or falls, though our team trains for and is prepared for any situation. While we never imagined such a horrible act, philanthropic support for the Level One Trauma Center helped provide the facilities, technologies, training and readiness needed to save lives.
---
WHAT IS A TRAUMA CENTER?
Not all hospitals are trauma centers, and not every emergency department can handle every emergency. A trauma center is a state-accredited program that offers the highest level of expertise and care in the shortest possible time.

Due to the intense demands and unpredictable nature of trauma care, and being Central Florida's ONLY Level One Trauma Center, every need must be anticipated every second of every day.

A trauma center is required to have emergency medicine physicians, trauma surgeons, nurses and other medical professionals in-house 24 hours a day, seven days a week.

Teams of 15 to 20 medical professionals stand ready and waiting to begin immediate lifesaving care as soon as a trauma patient arrives. In addition, a dedicated operating room is always ready, and a host of sub-specialists are immediately available.

Seriously injured patients who receive definitive care within the first hour after a traumatic injury have a 15 – 30 percent higher chance of survival, thus it is commonly called "The Golden Hour." Some experts say trauma centers can also improve quality of life by as much as 85 percent.
LEVEL ONE TRAUMA CENTER VS. EMERGENCY DEPARTMENT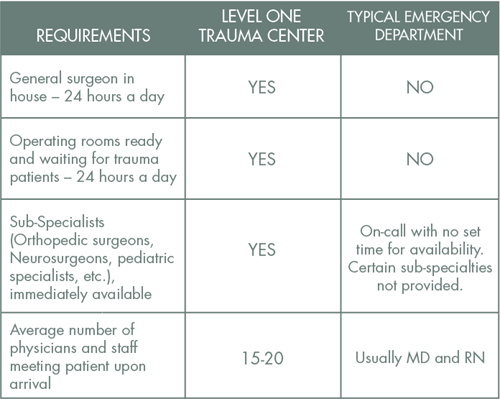 This level of "readiness" defines trauma care — and often makes the difference between life and death. It cost Orlando Health approximately $18 million annually just to be "ready" for trauma patients. This includes having teams of physicians and nurses in-house and immediately available, as well an operating room that is always staffed and ready to care for trauma patients. This "readiness" cost does not include costs related to treating any patients.
Though costly, it saves lives.
Orlando Health does not receive substantial local public funding to support operating a Level One Trauma Center as many centers do throughout the state of Florida. It is a service that Orlando Health as a mission-driven, not-for-profit healthcare organization has chosen to provide because of its commitment to the community and the critical need for trauma care. Philanthropic support is essential.
---
PHILANTHROPY IN ACTION
In addition to the "readiness" cost of trauma, philanthropy helps support the facilities and technologies needed to ensure that our Trauma Center is ready and waiting to save lives. The ongoing support for the Trauma Center has allowed us to remain ready by continuing to enhance the vital tools used in trauma care. These recent additions played a crucial role in the care that our team delivered following the attack in Orlando.
As part of the construction at ORMC, we expanded our Trauma capacity, including:
renovation of the trauma bays

to make equipment and supplies more readily accessible. Beyond the trauma bays, additional space was reconfigured to

expand our capacity to care for patients in need of complex orthopedic care and/or resuscitation

.

addition of a new lobby and waiting room for our Trauma Center and Emergency Department. We are also

increasing our total emergency beds from 54 to 72.

(Construction to be completed by Fall 2016)
10 new operating rooms

, as surgical intervention is at the heart of trauma care.

expansion of the surgical waiting room

for family and friends of patients undergoing surgery.

(Completed in April 2016)
a new 16-bed trauma ICU and a new trauma step-down unit.

These units were built in coordination with our Neuro ICU and Neuro step down units, so patients can easily overflow between the units in times of need.

a new 53 bed rehab unit allows ORMC to offer a full spectrum of care

, from immediate intervention in the trauma bay to surgery, recovery and rehabilitation. Our goal is to get trauma patients back to what they were doing before the trauma occurred.

(Opened in May 2015)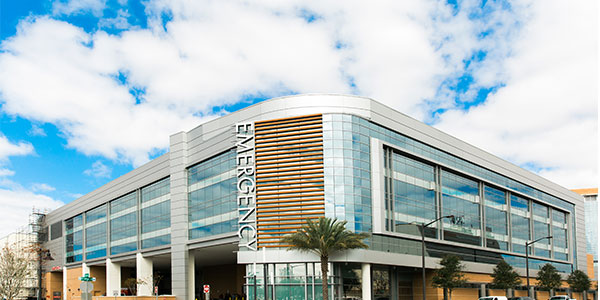 Philanthropy helped support the expansion at ORMC, as well as life-saving technology to care for trauma patients, including:
an ultra-fast, low dose CT scan adjacent to the trauma bay

, which allows the trauma team to scan patients literally from head to toe in a matter of seconds to quickly access injuries and determine the plan for treatment. This technology, costing more than $3 million, was funded entirely through philanthropy.

video laryngoscopes


(especially helpful to secure airways for severely injured and bloody patients),

a portable C-arm

(lose-dose X-ray used to help remove debris in trauma patients and to ensure proper alignment of bones when resetting breaks and fractures) and

point-of-care ultrasound machines

(which can help detect internal bleeding in seconds. All of these devices are critical tools used by the trauma team in the trauma bay. With a cost of $15,000 to $100,000 per device, each of these tools were made possible generous philanthropic donors.
Central Florida's only Level One Trauma Center depends on support from generous donors to maintain the state of readiness to care for our community.
Make a Donation